Our Founder, Our Foundation - The teachings of Blessed Basil Moreau still important to today's mission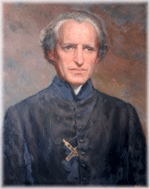 Blessed Basil Anthony MoreauJanuary 20, marks the 137th anniversary of the death of Father Basil Anthony Moreau, founder of the Congregations of the Holy Cross. Saint Mary's College was founded and is sponsored today by the Sister of Holy Cross. The feast day was established in September 2007 during a ceremony in Le Mans, France, when Father Moreau was beatified by the Catholic Church. Beatification is a significant formal advancement toward canonization, the status of being officially and solemnly proclaimed a saint.
As has been the annual custom, the three branches of Holy Cross and friends and associates will join together in prayer and feasting to honor Father Moreau. A variety of commemorative activities will take place across the campus communities of Holy Cross College, Saint Mary's College, and the University of Notre Dame. At Saint Mary's, a weeklong series of activities from January 23-28 are being planned. The annual Heritage Week events include spiritual, as well as celebratory events.
So, what's so distinctive about a Holy Cross education? In short, education of the whole person – mind, heart, body, and soul, are the core components of a Holy Cross education, which is based on the philosophy of Father Moreau. Students at Saint Mary's recognize they have a role in society and a responsibility to work to improve the good of all humankind. So, not only do they gain knowledge in the classroom, but develop values, attitudes, and behaviors which will enable them to become active and involved leaders and citizens. In fact, The Carnegie Foundation for the Advancement of Teaching announced earlier this month that Saint Mary's College is among 115 U.S. colleges and universities selected for its 2010 Community Engagement Classification, awarded to institutions that demonstrated alignment of mission, culture, leadership, resources and practices. This national recognition is a tribute to community service efforts led by the College's Office for Civic and Social Engagement.
"There is a spirit of service that is prevalent at Saint Mary's College. This designation is a testament to the devoted engagement of our students, faculty, and staff in issues facing our local community. This recognition is an honor and I believe it reflects Saint Mary's commitment to the best in Catholic higher education," said Carolyne Call, director of the Office for Civic and Social Engagement. Father Moreau would be proud of the school he helped found in 1844 and the commitment of today's students to the mission of Saint Mary's.