Voices of Hope Poetry Project: Hope Ministries Clients Proudly Present their Efforts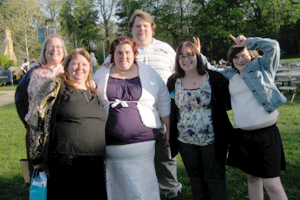 Mallory Price '10 (second from right) with Hope Ministries Clients
Residents of Hope Ministries recently visited Saint Mary's to present their touching and enlightening book about their lives and experiences of being homeless here in South Bend. Voices of Hope: Homelessness in South Bend is a compilation of their memoirs, poems, reflections, and artwork. The book itself and the event offered both the Saint Mary's College and South Bend communities a chance to dispel prejudices about the residents at Hope Ministries.
The project and presentation were both organized by Mallory Price '10, who was a social work major with concentrations in justice education studies and women's studies. The project evolved from Mallory's earlier work at the shelter. Mallory says, "The greatest thing I am taking away is the friendships and connections I made with the residents."
To fund the making of Voices of Hope: Homelessness in South Bend, Mallory took advantage of the Katharine Terry Dooley Fund for Peace and Justice, an endowment within the justice education program. After completing the project and seeing the joy and pride it brought to the residents, Mallory encourages other Saint Mary's students to use the fund to develop other helpful programs. "I hope that other students can take advantage of it because there is a lot to be done in the South Bend community and students can use that money to make it happen."
According to Mallory, those at the event were given a copy of the book. Of the five residents that attended, Mallory says, "they were very proud to have their works in it and really enjoyed sharing their stories and work." After the presentation, the residents were able to interact with Saint Mary's students while attending the Dalloway's Carnival [on campus event].
While the book has yet to be published, there is hope that it will be soon. Once published, the proceeds of the book will go to Hope Ministries as donations. Until then, free photocopies are available in the Office for Civic and Social Engagement (OCSE) and the Justice Education Department. Mallory hopes the book and presentation will help others look past prejudices and see the residents as she does. "The people I have met at Hope Ministries are some of the strongest and most intelligent people I have ever met. Their stories and their friendship have touched my life."
—Lauren DeBruce '11