Tea for Two: A Chance for Mothers and Daughters to Bond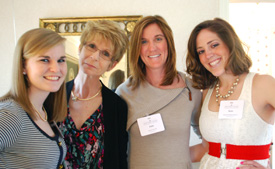 A group gathers at the Legacy Tea.Each spring, the College community welcomes mothers of the members of the junior class for Junior Moms Weekend. This year, Junior Moms Weekend takes place from Friday to Sunday, April 8 to 10. The weekend opens up with a wine and cheese reception and will include several different events such as yoga and pilates sessions and a formal dinner.
The Alumnae Relations Office offered a Legacy Tea during the weekend's festivities, which took place in the Riedinger House on Friday afternoon. The Legacy Tea during Junior Moms Weekend is usually the second-largest event that takes place with alumnae and students on campus. The tea was a chance for Saint Mary's alumnae and their daughters in the junior class to socialize and enjoy the rich history and tradition of the College with one another.
This year, nearly forty mothers and daughters attended the event. Among the attendees were Pamela Carey Batz '70 and her daughter Catherine '12. The Batz family can trace their tie to the College spanning all the way back to the 1850s. A family member served as the controller under Mother Angela Gillespie in the earliest years of the College. Pamela continues to be an active part of the College community as she has served on the Alumnae Board and the Madeleva Steering Committee. She currently serves on the Parents Council as well.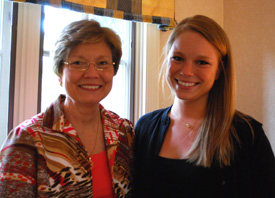 Pamela Carey Batz '70 and her daughter Catherine '12
at the Legacy Tea during Junior Moms Weekend."It's wonderful to be able to come back and have so many connections," said Pamela. "I have respected and admired Dr. Dorothy Feigl (Professor of Chemistry) for years. Catherine had her for a class, and it is wonderful to be able to share that with her."
"My mom knows what the College is like having gone to school here," added Catherine. "It is great for her to be able to live it with me, meet my friends, and be able to share this aspect of our lives with each other."
Pamela shares that sentiment with Catherine looking ahead to the remainder of the weekend. "I am most looking forward to meeting her friends and spending time with her. It is a great set up for graduation next year. By meeting so many of the moms of her friends, it makes graduation twice as much fun. But this weekend is all about the girls."