Lenten Reflections: Preparing for Easter
With the liturgical season of Lent has ended with the beginning of the Easter Triduum of Holy Week, the Saint Mary's College Alumnae Association Board of Directors and the alumnae of the College are able to look back on another successful year of weekly Lenten Reflections.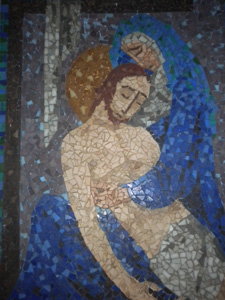 A view of a mosaic work in the Le Mans
Chapel is featured in the last installment
of the Lenten Reflections.Last spring, the Alumnae Association Board of Directors organized and carried out weekly installments of reflections of the upcoming Gospel readings. Beginning with Ash Wednesday, alumnae and selected current students would provide their personal reflection and thoughts on the readings for the week. The idea came into existence from the Alumnae Engagement Committee, which is a part of the Alumnae Board. Among the many aspects of the committee's mission is to engage alumnae spiritually.
The emailed reflections include both the personal thoughts on the upcoming Gospel reading as well as the Gospel readings for each of the Masses throughout the week.
After the success of last year's Lenten Reflections, the Alumnae Association Board of Directors organized volunteer alumnae to do Advent Reflections as well leading up to Christmas.
This year, the tradition continued with weekly emails being sent to alumnae across the country and around the world. Contributors this year were Sr. Mary E. Penrose, OSB '59, Debbie Johnson Schwiebert '74, Sara Bateman Koehler '70, Therese Johnson Borchard '93, Cindy Meyer Wargocki '99, and current students Alma Bravo '12 and Liz Leeuw '12.
"I think the Lenten and Advent Reflections are a great way to engage alumnae around the world," said Jessica Stuifbergen '99, Assistant Director of Alumnae Relations. "The beautiful reflections written by our alumnae give each alumna an opportunity to reflect during the holiest times of our liturgical year."