Let Them Count the Ways
Saint Mary's Accounting Students Place First in ICPAS Collegiate Contest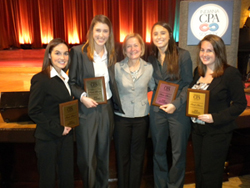 Betsy Reed, Maureen Temchuk,
Mary Ann Merryman, Maggie DePaola,
and Allison Courtney
How does a small certified public accounting (CPA) firm best deal with client retention in this struggling economy? According to judges for the Indiana Certified Public Accounting Society's (INCPAS) 2010 collegiate contest, by sending in the Saint Mary's accounting students.
As first place winners in this year's INCPAS college competition, held Friday, November 19 in Indianapolis, IN, Mary Ann Merryman, professor of business and economics, led the Saint Mary's team to victory. This year's case study required Indiana college teams throughout Indiana to research and write a paper to assess and write recommendations for a fictional struggling CPA firm.
For ten days, Allison Courtney '12, Maggie DePaola '12, Betsy Reed '11, and Maureen Temchuk '11 researched a plan for dealing with such issues as clients asking for reduced fees and updating business and marketing strategies. "Our team submitted a paper of 50 written pages and 30 pages of appendices," said Merryman. "Just the number of pages they produced gives you an idea of the tremendous amount of work our students put into the competition."
Their paper, chosen from 16 team entries, took them to Indianapolis where they made their oral presentation before four CPA judges. That evening, Saint Mary's first place award was announced "Academy Award-style" at a gala of more than 600 guests from the business community. Saint Mary's competed against finalist teams from IU Bloomington, IUPUI, Butler, University of Southern Indiana, and Valparaiso University.
Merryman has led the Saint Mary's teams to the "final six" for the past five years with their highest placement at third before they entered the 2010 competition. The Saint Mary's teams have benefited from strong faculty commitment to lead the team. "Students graduate, so the one constant is a faculty member with an ongoing commitment to make sure that a college or university organizes and coaches a team to compete," explained Merryman.
The Indiana CPA Society's Case Study Competition was created in 2000 as a program with the dual benefit of having a positive impact on students entering the CPA profession and helping Indiana CPAs with their firm's or company's recruiting efforts.