On Broadway
On Broadway: Saint Mary's hosts Tony Award winning director
Harold Prince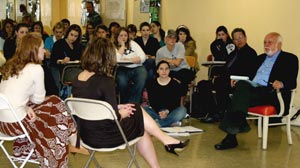 Last week music and theatre students reveled in the opportunity of a lifetime. Tony Award winning director Harold Prince visited campus as part of the Margaret Hill Endowed Chair Visiting Artist Series sponsored by the Department of Communication Studies, Dance, and Theatre. He worked with student performers as they rehearsed for the spring musical production of "Candide." Prince has a special connection to "Candide" as he was the original director of the musical when it debuted on Broadway in 1974.
While on campus, Prince gave a talk titled "Hal Prince on Broadway." He also made time for question and answer sessions with students after rehearsals. Associate Professor of Theatre Katie Sullivan appreciated the advice Prince gave to Saint Mary's students as he helped them hone their performances before the big show. "Hal Prince has been one of the principle movers and shakers when it has come to developing the American musical," she says. "It is such a unique and rich opportunity for us…"
For more on music and theatre at Saint Mary's, read about Emmy Award winning actor Anthony Zerbe's recent campus visit.