Reaching for the Stars: Newly Elected Student Body President and Vice President Hve the sights set high
Reaching for the Stars: Newly Elected Student Body President and Vice President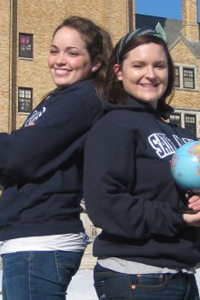 Laura Smith '11 and Rachael Chesley '11
The votes have been tallied and the results are in. And though it's been just a few weeks since their reign officially began, newly elected student body president, Rachael Chesley '11, and vice president, Laura Smith '11, are already well under way turning goals into realities.
"Running for Student Body [president or vice president] isn't something that I necessarily dreamed of when I first came to Saint Mary's," admits Laura. "The idea of running together was actually something that Rachael and I had discussed last spring, as sophomores." The pair met while studying abroad together in Rome.
"We decided to run together for a couple reasons," Rachael explains. "First, between Laura and I we have had our hands in many different parts of campus, which has allowed us to develop connections and networks with various parts of Saint Mary's. We knew that together, these networks could expand and grow even more. Second, Laura and I have a similar work ethic. We balance a heavy work load as well as a busy extra curricular schedule." Rachael adds that their friendship also played an extremely important role in the decision to run for the positions, "We support one another, help one another, and even challenge one another, which I think is terrific for us in a leadership role."
The goals Rachael and Laura have set their sights on are neither few nor far between. "We want to create a stronger network of communication and integration among the various clubs and organizations on campus," Rachael explains. Adds Laura, "Sometimes smaller clubs kind of get lost in the mix, and we really want to raise awareness about them, because no matter what their size, each one enriches our College in some way or another."
"Secondly, we want to increase alumnae outreach and networking. Saint Mary's was founded on the basis of tradition, and I know that one of the things that attracted me to Saint Mary's was the alumnae connections. We want to further reach out to them and involve them more with various aspects of the student body," Rachel says. "Thirdly, we want to bring more global awareness to campus." This objective will come with the addition of a new Student Government Association (SGA) position, called International Commissioner. "This position will be available for any international or exchange student whose home is in a foreign country and a student who is registered through Center for Women's Intercultural Leadership (CWIL) as an exchange or international student," she explains. It will be a non-voting position, and will help to involve international students in SGA.
It certainly seems as though Rachael and Laura are headed in the right direction. "We would really like to continue what Jenny and Meg have started, and really pay attention to the details," Laura says. "If we make ourselves visible to our peers and help them to understand that we want to make Saint Mary's better for them in any way possible, then we can have a strong channel of communication between students and student government. Next April, I want to look back on the year and be proud of what Rachael and I have accomplished."
—Mary Elizabeth Ulliman '10