Residence Hall Association - Building Community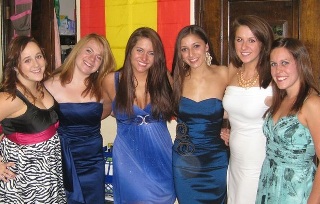 Juniors Maddy Peterek, Hanna Heidkamp, Monica Palicki,
Lauren Enayati, Kerry Key, and Megan Price pose for a
picture before the All School Formal.The Saint Mary's College Residence Hall Association (RHA) annually hosts an all-school formal at the beginning of the spring semester. This year, the "Baby, It's Cold Outside" themed dance took place on Saturday, January 29 at the South Bend Century Center.
This winter, the RHA pursued a new venue in the Century Center to allow more students attend the annual formal. Nearly all of the 1000 tickets available for the dance were sold and the formal went smoothly thanks to the leadership and work of the RHA.
The Residence Hall Association does more than just organize a formal each year. RHA is a student-run organization that focuses on improving the lives of students who live on campus. The group works together with other campus organizations and departments to offer various events and opportunities to encourage school spirit while helping to make improvements in the College's residence halls.
Christine Mihalopoulos is an advisor of the RHA and is in her second year as the Hall Director of Holy Cross Hall. As the group's advisor, she offers support and guidance to RHA members while challenging and strengthening their educational experience.
As someone involved in both the RHA and the Department of Residence Life and Community Standards, Mihalopoulos and her fellow Hall Directors get involved in the college experience in a way unique to the job.
"As a Hall Director, we are able to get more involved with students by the mere fact that our lives are focused around students," she commented. "We work in our halls, we live in our halls, and we have meetings all day and all night in our halls. We want our students to be successful in college and much have that success comes from the decisions they make and the ability to overcome challenges in their lives."
The College's Hall Directors, much like the RHA, work together with departments across campus to help make the on-campus experience what it is. Through their cooperation, the Department of Residence Life and Community Standards is able to contribute to the holistic development of each Saint Mary's woman.
"As a Hall Director, I thoroughly enjoy the interaction I have with students on a daily basis, especially in my role supervising the RAs in the hall. I love the opportunity to get to know students on so many levels and feel like I am impacting their lives in some way."