Reunion 2011: Welcome Home, Alumnae!
It's a year for 1's, 6's, and athletes as Saint Mary's College welcomes more than 800 alumnae back to campus Thursday-Sunday, June 2-5, 2011.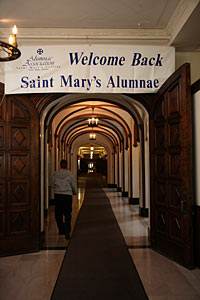 A banner welcomes alumnae to
the 2009 Reunion.
Starting with the classes of 1946 and 1951, representatives of thirteen classes ending with the numbers 1 and 6 will laugh with friends, sleep in their old dorms, and remember their days as Belles on the College's beautiful campus. The Class of 1961 celebrates its 50th anniversary, and Saint Mary's athletes are this year's "affinity group," so all former student athletes are invited to attend Reunion.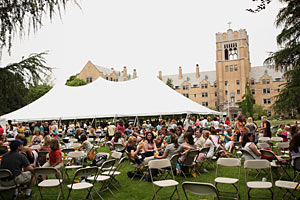 The 2009 Reunion picnic in front of Le Mans Hall.
Among special events for the Class of 1961 is Thursday night's cookout from 6 to 8 p.m. at Dalloway's Clubhouse, and Friday night's President's Reception and Dinner at 7 p.m. in Stapleton Lounge, Le Mans Hall.
Athletically themed events include "Saint Mary's College Athletics: Past, Present, and Future," a talk by Athletic Director Julie Schroeder-Biek '88 at 2:30 p.m. on Friday in Room 134, Spes Unica Hall. The Saint Mary's College Athletics Hall of Fame Induction Dinner is 6:30 p.m. on Friday in the Noble Family Dining Hall, west wing. This year's inductees are the 1988-89 tennis team, swimmer Megan Ramsey '04, and golfer Stefanie Simmerman '05.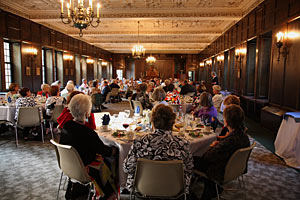 Reunion dinner in Stapleton Lounge, 2009.
College President Carol Ann Mooney '72 will give her annual address at 11 a.m. on Saturday in the Carroll Auditorium, Madeleva Hall. The Reunion picnic and class photos follow at noon in the front green of Le Mans Hall.
To see the schedule, share in the stories and images, or to share your own stories and images Click here to visit the Reunion experience site. Registration is required for events. Please call (574) 284-4578 to register.