Dance Marathon
Let the Rhythm Move You: Saint Mary's students host annual
Dance Marathon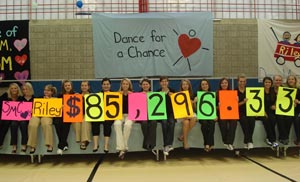 Last year Saint Mary's students raised over $85,000
for Riley Hospital for Children.

This Friday students will pull an all-nighter for a good cause. Over 300 students from Saint Mary's, the University of Notre Dame, and Holy Cross College will strut their stuff at Angela Athletic Facility. They will stay on their feet for 12 hours to raise money for Riley Hospital for Children in Indianapolis. Last year, Saint Mary's Dance Marathon raised over $85,000. This year they are hoping to top that.
Sarah Voss '09, president of the organization, has been working hard with her team of students to make Saint Mary's fourth annual Dance Marathon a success. "I oversee a board of 25 executive council members that each plan a unique aspect of the Marathon," she explains.
Saint Mary's is among the approximately 100 colleges and universities that hold Dance Marathons to benefit Children's Miracle Network hospitals. Students started Dance Marathon at the College in 2006. The Saint Mary's program is nationally recognized for raising $153,000 in its first three years. In July the Children's Miracle Network's Dance Marathon program honored the College with its highest award, the Incentive Award. The award recognizes exceptional Dance Marathons that have broken the mold.
"We have a little motto at DM that we like to live by," says Voss. "'We dance because we can, we stand for those who can't.' By standing on our feet for 12 hours, through exhaustion and pain, we like to think that we are staying on our feet in honor of a child at Riley Hospital who would give anything to get out of their hospital bed and play for a night."
For more on dancing the night away, read about Saint Mary's Dance Marathon founders Pauline Kistka '09 and Francesca Johnson '09.