Senior Send-Off: Students Get Answers for Life's Next Step
Senior Send-Off: Students Get Answers for Life's Next Step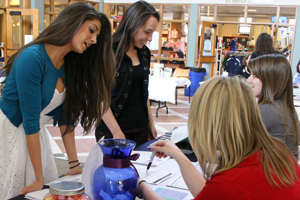 Seniors Whitney Fricke and Nori Drach (standing) speak
with Career Crossings Director Stacie Jeffirs and
Asst. Director Tricia Dunton
Senior Liz Pugh was armed and ready with a stack of handouts picked up at the Senior Send-Off held in the Student Center atrium on Monday. With graduation just around the corner, Liz says, "I came today for information on different things—from finding a church after graduation to health care to having financial questions answered." In this "one-stop-shop" seniors were able to get information and answers from a number of offices on campus.
Staffed tables had information available from ResNet, Women's Health, Human Resources, Campus Ministry, Alumnae Relations, Financial Aid, Career Crossings Office, the Office for Civic and Social Engagement (OCSE) and the Department of Business Administration and Economics. ResNet representatives were on hand to inform students about network drives and software expiring; where to get tech support after they graduate; and how long their email addresses will be affective. Women's Health representatives discussed issues such as finding a health care provider in a new area. The Financial Aid representatives had information about managing outstanding loans including Loan Forgiveness programs. The Alumnae Relations Office representatives shared information on alumnae clubs, offering students a way to stay connected with other alumnae, and be engaged with the College. The Senior Board and the Career Crossings Office sponsored the event. Their table had handouts that addressed the inevitable— finding a job, with information on everything from writing a resume to negotiating a salary.
"I found it to be very informative," says Liz after making the rounds. "They covered a lot of information including questions I didn't know I had." Liz still has options open to her. She is considering post-graduate service, followed by time in the workforce, before going to graduate school in divinity.
Handouts are still available from represented offices, and some information is available online. "Our hope is that we can help graduating seniors with those last minute questions not only about the job search, going to graduate school or volunteer and service opportunities, but to also provide information that will help them transition into life after college," says Stacie Jeffirs, director of the Career Crossings Office. "Graduating from college and the months to follow can be very overwhelming. We are hoping that seniors will take advantage of the knowledge from the College's many experts and professionals to help them ease into the transition."