Real World Research - Students and professors collaborate
Saint Mary's students and faculty work together in the classroom or the lab on a daily basis, however, selected professors and students get a unique opportunity to work together over the summer on a research project of their choice. Student Independent Study and Research (SISTAR) awards offer students and faculty a one-of-a-kind opportunity to partner together to conduct research in a creative yet focused atmosphere for two months during the summer. The student, who is usually a rising senior, pursues her research as a junior colleague with the faculty partner.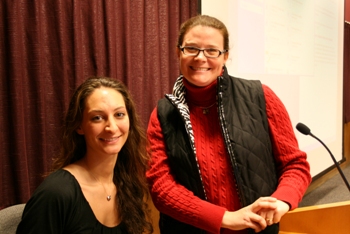 Brynn Thomas '11 and Professor Susan LathamThis week several students, including Bynn Thomas '11, and their professors are presenting the results of their research. Thomas was granted the Maryjeanne R. Burke and Daughters SISTAR, which has been funded through the generosity of the Burke family.Thomas, a psychology major who is also earning a minor in communicative disorders, completed her research with the guidance of Saint Mary's Professor Susan Latham and the University of Notre Dame's Professor Joshua Diehl.
Thomas's research focused on combining advanced technology in the form of a robot with Applied Behavioral Analysis (ABA) therapy. The robot was designed to mimic natural social interaction, such as slight hand movements or a head nod.
"Essentially, we are researching ways to make ABA therapy more effective for children with autism," said Thomas. "In talking with Professor Latham about our SISTAR topic, we concluded that both our interests were in effective treatments of autism. Professor Latham worked on a paper about the effectiveness of two other therapy strategies and my focus was on ABA therapy, so we thought our topics would complement each other."
"Professor Latham and Professor Diehl encouraged me to research my own interests and opened their doors to me for any questions I might have. I was able to fully immerse myself into this work and put the time in to gain valuable knowledge."