"SMC-Tostal"
"SMC-Tostal" Students host recording artist Sara Bareilles as part of spring celebration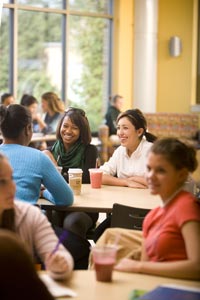 With finals week just around the corner Saint Mary's students are kicking their study efforts into high gear. This is the last week of classes at the College. Luckily, there is one more campus event this Thursday that will provide students with a welcome study break.
SMC-Tostal, an annual event at the College, is modeled after "An-Tostal," or "annual tostal," a spring event that Saint Mary's first held in the 1960s. It continued as a spring celebration held before finals every year, according to Student Activities Board (SAB) president Michele Peterson '10.
Michele, a business administration major with a minor in theatre performance, has worked hard with her Board to plan the day-long SMC-Tostal event. They are proud to feature popular recording artist Sara Bareilles as this year's concert performer.
"We have been planning this day since the fall," Michele explains. "After last year's SMC-Tostal concert featuring Colbie Caillat, we did not want to disappoint. We hope this tradition of having a well-known musician come to Saint Mary's continues because it has helped our Board see a large increase in students attending events."
SAB has planned several other activities to take place throughout the day. They include caricature artists and a photo booth in the Student Center Lounge and special desserts in the dining hall during mealtimes.
"SMC-Tostal is one of our traditional events," Michele says. "In my opinion, its purpose is to give students the opportunity to relax and have some fun for a day at the end of a semester."