Master at Work
Tony Award Winner Teaches Master Class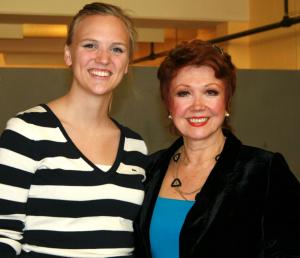 Angie Schott '13 poses with Tony Award
winner Donna McKechnie after the
master class.
It's rare to have two accomplished actresses visit Saint Mary's so soon after one another, but on Monday November 8, just weeks after Lily Tomlin's visit, Tony Award winning actress Donna McKechnie was on campus to teach a master class. McKechnie worked with students focusing on their connection to the music.
"How fortunate we are that our students are able to learn from the masters like Donna McKechnie and Lily Tomlin, both Tony Award winning actresses. Ms. McKechnie is a master of not only the theatre, but of what makes theatre sing—music and dance," said Mark Abram-Copenhaver, professor of theatre at Saint Mary's College.
Students in the master class worked on music for an upcoming Saint Mary's theatre production, Into the Woods, as well as other selected music. Before the students began, McKechnie told the class "You are more important than any lyric. The music was written for you to bare your humanity and bring it to life."
"I believe that opportunities like these are crucial to the development of a young artist like myself," said Angie Schott '13. "It is so inspiring just to see someone who is as talented as Donna McKechnie who has succeeded in the professional performance world."
McKechnie who won a Tony for her role as Cassie in "A Chorus Line," is regarded internationally as one of Broadway's foremost dancing and singing leading ladies.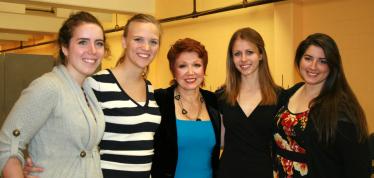 Music and theatre students who worked with Donna McKechnie
pose with her for a photo. Pictured from left to right are Erin
Marks '13, Angie Schott '13, Victoria Flees '12, and Toni
Marsteller '13.
McKechnie's Broadway credits include "How to Succeed in Business without Really Trying," "A Funny Thing Happened on the Way to the Forum" (national tour), "The Education of H*y*m*a*n K*a*p*l*a*n," "Sondheim- A Musical Tribute" (which she also choreographed), "On the Town," "Promises, Promises," and "State Fair," for which she received the Fred Astaire Award for Best Female Dancer for the 1996 season. She has also starred in numerous productions in London's West End. She has performed extensively on the concert stage, in cabaret and with symphony orchestras and has appeared as a guest star in numerous television musical specials and dramatic series.
Written by: Jacquitta Martin '12