That's a Wrap
That's a Wrap: TV production class teaches skill and teamwork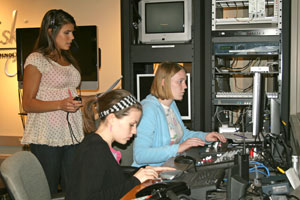 "Open communication is what ultimately connects people with one another and society as a whole," says Bianca Leonardo '12. That's why she chose a major in communication studies. During the spring semester Bianca was enrolled in documentary filmmaker Rick Erwin's television production class.
Bianca and her classmates spent hours in the Cushwa-Leighton Library's Huisking Center taping, learning the various lighting and sound controls, and editing shows they created and starred in themselves. They developed topic ideas for their shows, produced in talk show format, which aired throughout the semester on SMC-TV cable
Channel 2.
"As my first communications course, the television production class has inspired me to learn more about the film world and the elements that support it, like video editing and camera operations," says Bianca. She was also inspired by her professor. "Professor Erwin has so much knowledge and experience to share, and his passion for what he does is evident. He motivates and challenges his students."
Erwin, who got his start with ABC Television in Chicago, has produced and directed over 700 films. He now owns the Erwin Media Group based in Chicago. Erwin wants his students to learn about the technical side of television production, as well as develop the know-how and confidence it takes to put together a live show.
"What I enjoy the most is to see students learn this and also build confidence," Erwin says. "When you direct a live show, you're like an orchestra conductor. And you have to have the knowledge, confidence, skill, and timing." Erwin says his students often come out of the class "with a sense of 'I can do anything.'"
Bianca appreciates the life skills Erwin imparts to his students. "The class strongly enforced leadership and teamwork," she says. "Each student had to master her specified area in the TV studio, and together we would collaborate to 'make it a wrap.'"