The Luck of the Irish
The Luck of the Irish: Notre Dame/Saint Mary's Dance Team Wins International Competition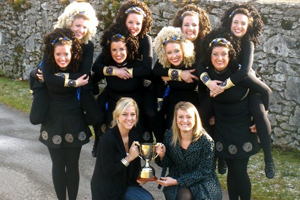 It wouldn't be St. Patrick's Day without a little Irish dancing, and Saint Mary's has some of the best dancers in the world kicking up their heels today. On February 21 a team of eight dancers (called a ceili) and two coaches from the (University of) Notre Dame/Saint Mary's College (ND/SMC) Irish Dance Club competed at the All-Ireland Irish Dance Championships in Killarney, Ireland. The students, coming together for the first time as a team, received a unanimous first place decision at the competition. "Attending the All-Irelands Dance Championships as a college team has brought great recognition to our club within the Irish Dancing world," says Caitlin O'Brien '10.
As the only American team in the competition, the ND/SMC team held their own against teams from around the world, including Ireland, England, Scotland, Australia, New Zealand, and Africa. "In the beginning, it was challenging to work on the choreography because each of us had previously danced at different schools, each with their own dancing styles. Trying to make our team as uniform—dancing-wise—as possible proved to be the most difficult aspect," says Caitlin. "This also proved to be a great bonding experience for the ten girls involved in this process." The team danced two choreographed dances that were judged by a panel of five judges.
The ND/SMC Irish Dance team has approximately 50 members and has performed on both campuses at a number of events including football pep rallies and SMC Dance Marathon. The members of the championship team are Saint Mary's College students Caitlin O'Brien '10, Lauren Konopacz '11, Stephanie LaGruth '11, Mary Colleen McKevitt '11, Mary Miller '11, and University of Notre Dame students Erin Madison '10, Colleen Gerth '12, and Caitlin Walsdorf '12. Their coaches, Deirdre Robinett '10, who won the World Irish Dancing Championships in 2009, and Notre Dame senior Katie Grennan joined the eight students.