Yes We Can! Walk: Students Raise Money and Collect Food for Local Food Pantry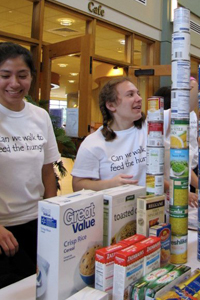 Babi Bohoroquez '11 and Aileen Hurd '12 On a not so sunny, cold day in March, over 100 Saint Mary's students and members of the community came out in support of those who are less fortunate. On March 28, students from the Office for Civic and Social Engagement (OCSE) came together for the Yes We Can! Walk. In its second year, walkers raised money and collected cans of food for the Little Flower Food Pantry in South Bend, Ind. Students collected 175 cans of food and raised $225.00. Walking from Saint Mary's to the Grotto at the University of Notre Dame, with a pause for prayer and reflection, the entire event lasted just over an hour. "It is a great way to bring food insecurity to the forefront during the Easter season, and it gives students an opportunity to give back during Lent, as well as providing support for a local food pantry that is always in need," says Olivia Barzydlo Critchlow, assistant director for OCSE.
The Walk was organized last year by students in the College Academy of Tutoring Program (CAT), who wanted to organize a spring event for Saint Mary's to participate in with members from the South Bend community. CAT was formed at Saint Mary's College in 2006 to meet the needs of at-risk elementary school students in the South Bend area. The program partners Saint Mary's students with Title 1 schools in South Bend in the roles of tutors, teacher's assistants, reading partners, and special program coordinators. In return, CAT scholars receive a $2,500 tuition credit at Saint Mary's.
"The CAT Scholars Program provides me with a unique opportunity to work not only with the youth of South Bend, but also with a diverse group of women," said Joy Viceroy, '13. "Even though we come from different walks of life, and are pursuing a variety of studies at Saint Mary's, we are united in our love of children and passion for making a difference in the community. I am truly blessed to work with such an amazing team."