European Summer Study Program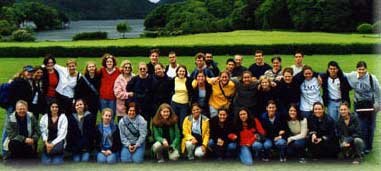 Summer Program Details
The European Summer Study Program is open to all college or university students as well as alumnae or friends and relatives of participants. In addition to students from Saint Mary's College and the University of Notre Dame, students from the following schools have also participated in the program.
University of Alabama, Albion College, University of Arizona, Boston College, Central Michigan University, Chatham College, Coker College, University of Colorado, Colorado State University, Cornell University, University of Dayton, Duke University, Fairfield University, Florida State University, Georgetown University, Holy Cross College, University of Illinois, Indiana Universities at Bloomington and South Bend, Iowa State University, University of Iowa, Johns Hopkins University, University of Kentucky, Le Moyne College, Loyola University New Orleans, Marquette University, University of Michigan, Michigan State University, Milikin University, Northern Michigan University, University of Miami, University of North Carolina, Puget Sound University, Purdue University, Rollins College, San Diego State University, Santa Clara University, Texas A & M University, Tri-State University, Tulane University, University of Utah, Vanderbilt University, Western Kentucky University, and University of Wisconsin.
Any student may register for one or more of the courses offered and take up to a maximum of six credits. Preferably registration should be completed before the trip begins. The last day to add or drop classes, or to make credit changes is TBD. The cost of $150 per credit hour is payable to the Business Office at Saint Mary's College. The courses are offered for two credits, with a third credit available in each course through additional written assignments or special projects to be specified by the instructor. Almost all colleges and universities require that courses which are transferred be for three credits.
Course Offerings
BUAD 349 - International Business
EDUC 372 - Education in Great Britain & Ireland
HIST 289 - The City of Modern European History
THTR 490 - History of Theatre & Costume
Expenses
The approximate fee for the trip is $5,195 and covers all air, land and sea travel from Chicago (return) and within France, Britain and Ireland. All breakfasts, and two evening meals are also included. Tuition is not included. Other eating expenses should be about $500-$600. The fee also includes admission to Dublin Castle, Kilmainham Prison, Trinity College and the Book of Kells, Edinburgh Castle, Holyrood Palace (when open), Stonehenge, Tower of London, Westminster Abbey, Saint Paul's, and Bath.
Apart from personal expenses, any additional expenses to the student would be minimal (less than $150 for taxis, subways, etc.). Expenses are based upon the existing air and land transportation schedules, and international currency rates prevailing on August 31, 2005. In the event of a significant change in world price structures or airline fares, minor revisions would have to be made in the cost of the trip.
Saint Mary's College and its agents act only as agents and are not liable for any injury or damage incurred during the program.
If circumstances deem it necessary, the College reserves the right to make changes in the itinerary of this program. Your payment of the required deposit constitutes your acceptance of the terms and conditions of this program. A copy of the terms and conditions of this program will be made available to each participant.
Enrollment in the program is on a first come basis. A $500 norefundable deposit will secure a place in the program and is due by March 1. After March 1, the $500 deposit will be due at the time of enrollment as will any fees listed below which are due at or prior to that time. Airfare is payable by March 17 and is non-refundable (all air travel is on regularly scheduled flights with major airlines). All fees must be paid by May 1. In the event of over enrollment, participants will be accepted in the order of the payment of their deposits with preference given to those students registered for at least one course. Deposits, fees, airfare and tuition are payable to Saint Mary's College (please indicate "European Summer Study Program" on your check). Payment should be sent to Saint Mary's College, Student Accounts, Business Office, Le Mans Hall, Notre Dame, Indiana 46556.
Further Information
For additional information please contact the program director:
Professor David Stefancic
Spes Unica Hall, Room 231
Saint Mary's College
Notre Dame, Indiana 46556
(574) 284-4462
Fax: (574) 284-4866