Hypatia Day
Hypatia Day: Students Teach Girls to Stick with Math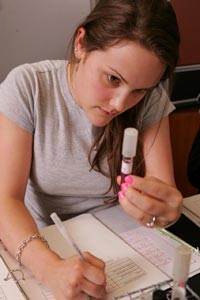 As Saint Mary's students know, math isn't just for boys. This weekend they're encouraging girls in middle school to explore the wonders of math and science. On Saturday, February 23 they will host the annual celebration of Hypatia Day, when middle school girls from seven local counties will visit Saint Mary's to be engaged and mentored by our math and science majors.
Hypatia Day, established by Holy Cross Sister Miriam Patrick Cooney in 1991, is named for the first known female mathematician, Hypatia of Alexandria. Legend has it that her father taught her mathematics at a time in Greek history when girls weren't privy to education. "We want to encourage young women to keep taking advanced math and science classes," says Ewa Misiolek, math professor and director of the program. "After meeting in our classrooms and labs with our students who have succeeded in math and science, we hope these younger students will feel confident that they can do it too."
The visiting middle school students will be treated to an address by Joan F. Brennecke, Professor of Chemical Engineering at the University of Notre Dame and Director of the Notre Dame Energy Center. For the rest of the day, they'll be immersed in hands-on sessions with Saint Mary's math and science majors. The day provides a great mentoring opportunity for Saint Mary's students, says Misiolek.
Anna Fricano, a senior math major and Italian minor, has both planned and participated in Hypatia Day for three years now. Busy as she is with her studies, as a tutor in the campus Writing Center, and an internship with Press Ganey Associates, Inc. in South Bend, Fricano is happy to take time out to "make math seem cool" to middle school girls. Many young people, especially girls, "need encouragement in the areas of math and science," she says. "I think we [Saint Mary's students] are all proud of the education we receive and its exciting to be able to invite other people here to be part of it for a day."