Saint Mary's Intramurals
The Intramural Sports Program (IMs for short) offers leagues, tournaments and single day events in a variety of recreational areas. Ability levels range from the "just out to meet new people and have fun" level to the "highly competitive former athletes." All students registered at Saint Mary's College and all faculty/staff are eligible to compete in all the phases of the IM Program.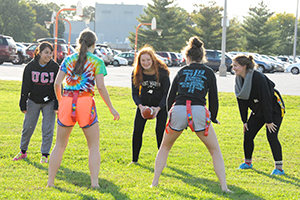 Fall events include Sand Volleyball, Flag Football, and Belles for Fitness. The Winter I session features Volleyball and 5 on 5 Basketball. Winter II events include Dodgeball, Indoor Soccer, and Belles for Fitness. Each session is five weeks in length including a championship week where a champion for each sport is determined and team members are awarded champs t-shirts. Teams are made up of six to ten people depending on the sport.
Belles for Fitness is an exercise opportunity where teams log their exercise participation each week for a healthy competition and more importantly to motivate their teammates to live a healthy lifestyle. Single day tournaments include Bombardment and Dodgeball. Grab your friends and make a team for one of our IM offerings today!
Registration Procedure
To register for IMs:
Pick up the IM Roster sheet at your Residence Hall front desk, the off campus lounge, or at the Angela Athletic Facility front desk; or just print one off by downloading the Online 2015 Fall IM Registration Form (.pdf).
Turn in your roster by 5 p.m. on the last day of registration to the Front Desk Worker in Angela Athletic Facility.
Have your Captain or Alternate Captain attend the Captain's Meeting to receive your team schedule as well as an overview of the rules.

Fall
September 8th

–

October 8th
Flag Football and Sand Volleyball
Games Played Outside
4-6:30 pm
Winter I
November 2nd

–

December 3rd
Basketball and Volleyball
Games Played in Angela
9-11:00 pm
Winter II
January 25th – February 25th
Indoor Soccer and Dodgeball
Games Played in Angela
9-11:00 pm


Spring
Events TBD
–
short tournament style play
If you have any questions regarding intramurals please contact IM Director Amy Long at along@saintmarys.edu.