Coaching Staff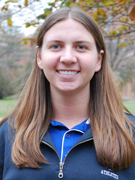 Head Coach - Amy Long
Amy Long enters her second season as the head lacrosse coach at Saint Mary's College during the 2014-15 academic year.
During the Belles' inaugural season of lacrosse in 2014, Long coached the team to a decisive win over Illinois Tech and also guided the program to their first conference win in program history with an overtime victory against Trine. Long had a member of the team recognized as MIAA Defensive Player of the Week and the Belles later earned IWLCA Honor Squad status for their academic success.
Long came to Saint Mary's with a range of coaching and educational experience. She served as the head coach of the Sylvania High School Girls' Lacrosse team and has held assistant coaching positions with the University of Toledo and Siena Heights University lacrosse programs. A Level 1 trainer with the U.S. Lacrosse Coaching Education Program, she teaches lacrosse coaches about the game during their certification process. She has also taught undergraduate students the skills and strategies of the game of lacrosse at the University of Toledo.
Long is a 2009 graduate of the University of Toledo. She was a double major in marketing and professional sales and graduated cum laude with a bachelor of business administration. In August 2012, she completed her master's of arts degree with a concentration in organizational leadership from Siena Heights University.
Assistant Coaches
Liz Palmer
Katie Neeser