Coaching Staff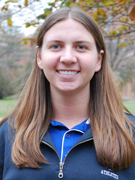 Head Coach - Amy Long
Amy Long enters her second season as the head lacrosse coach at Saint Mary's College during the 2014-15 academic year.
During the Belles' inaugural season of lacrosse in 2014, Long coached the team to a decisive win over Illinois Tech and also guided the program to their first conference win in program history with an overtime victory against Trine. Long had a member of the team recognized as MIAA Defensive Player of the Week and the Belles later earned IWLCA Honor Squad status for their academic success.
Long came to Saint Mary's with a range of coaching and educational experience. She served as the head coach of the Sylvania High School Girls' Lacrosse team and has held assistant coaching positions with the University of Toledo and Siena Heights University lacrosse programs. A Level 1 and Level 2 trainer with the U.S. Lacrosse Coaching Education Program, she teaches lacrosse coaches about the game during their certification process. Additionally, she is a U.S. Lacrosse level 3 certified, which is the top certification offered by the governing body. She has also taught undergraduate students the skills and strategies of the game of lacrosse at the University of Toledo.
Long is a 2009 graduate of the University of Toledo. She was a double major in marketing and professional sales and graduated cum laude with a bachelor of business administration. In August 2012, she completed her master's of arts degree with a concentration in organizational leadership from Siena Heights University.
Assistant Coaches
Liz Palmer
Liz Palmer enters her second year as an assistant coach to the Saint Mary's lacrosse program for the 2015 season.
A four year member of the Belles varsity swim team, Palmer graduated from Saint Mary's in 2013 earning a bachelor's degree in biology and psychology and minor in religious studies. A long distance freestyle swimmer, she was the recipient of the 2013 Don Miller Belles Spirit Award at the annual Senior Awards ceremony and was recognized at commencement with the 2013 Lumen Christi Award.
Palmer was an all-state lacrosse goalie at Powers Catholic High School (Flint, MI) and helped lead her team to a State Championship Title in 2008. Palmer also began a new position as Professional Specialist, teaching Biology labs at Saint Mary's this year.
Katie Neeser
Katie Neeser enters her first year as a volunteer assistant coach for the Belles in the 2014-15 season with hopes of helping Saint Mary's gain more momentum during their second varsity season.
Prior to joining the Saint Mary's coaching staff, Neeser coached Saint Joseph High School (South Bend) for six seasons and played lacrosse for five years - for Saint Joseph High School and Div II Shippensburg University of PA - prior to coaching. She is currently a Level 2 certified coach through US lacrosse, is a former referee, and was named the 2014 High School Women's Lacrosse Coach of the Year.
She currently coaches for the Indy United Lacrosse Club based out of Indianapolis and attends major summer tournaments such as Capital Cup, Presidents Cup, and Western Cup.
Neeser is no stranger to Saint Mary's. Her three sisters are Saint Mary's alumnae - Amy Mason '04, Stephanie Mason '06, and Ann Mason '08. She is extremely excited to be a part of such a prestigious college!