Belles Conclude Season With Loss to Scots
NOTRE DAME, Ind. - The Saint Mary's lacrosse team ended their inaugural season with a 24-6 loss at home against Alma on Saturday.
The Scots scored the first three goals of the game to mount a 3-0 lead four minutes into play.
Tess Guerrero made a few moves to work her way past a pair of defenders and sent home the Belles' first goal of the game in the seventh minute of play. Aubrey Golembieski later made it a 4-2 game with a free position goal at the 20:36 mark in the opening period.
The Scots, however, rattled off a 14-0 run over the rest of the first period and the first nine minutes of the second half to establish a 18-2 advantage.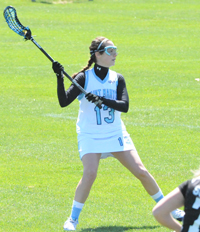 Katlynn Dee led the team in ground
balls and caused turnovers against
Alma.Golembieski tallied back-to-back goals with Cathy Baxter picking up an assist on the second goal to make it an 18-4 contest with 16:07 left in the second half. With less than ten minutes remaining, Colleen Conway fired a shot past the Scots' goalkeeper while Sarah Neeser notched a free position goal to set the score at 22-6. Alma added a pair of late goals for the 24-6 final decision.
Stephanie Szymas posted nine saves for the Belles. Aubrey Golembieski had her eighth hat trick of the season with three goals and led the team with five draw controls. Tess Guerrero, Colleen Conway, and Sarah Neeser each added a goal of their own for the Belles. Katlynn Dee paced the team with six ground balls and caused four turnovers.
The Belles end the season 2-13 with a 1-7 mark in MIAA contests.