Belles Team Earns Academic Honor Squad Recognition
GRAND LAKE, Colo. - The Saint Mary's College lacrosse team was one of 254 NCAA Division I, II, and III programs to earn Academic Honor Squad recognition from the Intercollegiate Women's Lacrosse Coaches Association (IWLCA) for the 2014 season.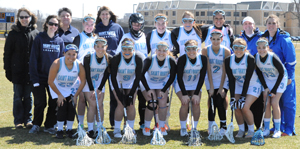 In order to be an Academic Honor Squad, a team must maintain at least a 3.0 cumulative grade point average.
"We are excited to be recognized for academic achievement in our inaugural season," said head lacrosse coach Amy Long. "I am very proud of our team and their continued commitment. It is great to see our student-athletes excelling in the classroom and achieving their academic goals."
Saint Mary's was one of 125 NCAA Division III programs to earn the academic honor for the 2014 season. Moreover, the Belles joined four other MIAA members on the list for 2014.
For the full list of IWLCA Academic Honor Squads, click here.