Belles Fall Short Against Hornets in MIAA Opener
KALAMAZOO, Mich. - The Saint Mary's lacrosse team lost their MIAA opener by a 16-9 score against Kalamazoo on Wednesday night.
The Hornets tallied the first two goals of the game, but a free position goal by Jackie Loesch in the ninth minute of play to make it a 2-1 game. After Kalamazoo responded with back-to-back goals for the 4-1 advantage, the Belles stormed back with three goals in-a-row to tie the game at 4-4. Cathy Baxter tallied an unassisted goal, Jackie Loesch connected with Lauren Telford for a goal, and Aubrey Golembieski knotted the game at 4-4 with an unassisted effort to cap off the run.
The score was unchanged until the clock whittled down to 7:12 left before halftime, at which point the Hornets broke the tie with a goal. Kalamazoo added goals in the 24th and 30th minutes of the first period to take a 7-4 lead into the break.
Kalamazoo continued that run with two goals in the opening five minutes of the second half to claim a 9-4 advantage. Jackie Loesch ended the scoring streak by the Hornets with an unassisted goal of her own at 20:35.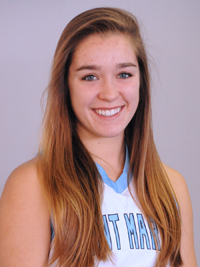 Aubrey Golembieski scored five goals
to lead the Belles against Kalamazoo.Over the next 15 minutes of play, the teams traded goals back and forth. Aubrey Golembieski responded for the Belles with a pair of goals at 11:07 and 7:07 to keep Saint Mary's alive with the score sitting at 11-7 in favor of Kalamazoo.
The Hornets were able to string together three goals in-a-row to push their advantage to 14-7 with 2:14 left in the game. Tess Guerrero fed a pass to Golembieski for a goal with 1:25 remaining on the clock. Golembieski later capped off the scoring after two late Hornet goals with her fifth score of the game with just five seconds left for the 16-9 final tally.
Saint Mary's held the 14-13 advantage in draw controls in the game while Kalamazoo collected 23 ground balls to the Belles' 17.
Stephanie Szymas had a season-best 17 saves in goal for the Belles.
Aubrey Golembieski had a season-high five goals on five shots while adding five ground balls and leading the team with eight draw controls. Jackie Loesch added a multi-point effort with two goals to go along with an assist. Lauren Telford and Cathy Baxter each added a goal and Tess Guerrero notched an assist to round out the scoring efforts for the Belles. Sarah Neeser tallied five draw controls, and Katlynn Dee collected three ground balls.
The Belles (0-7, 0-1 MIAA) host Illinois Tech on Saturday, April 5 at 1:30 p.m. for their first home game in program history.