Belles Fall in Season Opener at George Fox
NEWBERG, Ore. - Having had just one practice on an actual field prior to their season opener, the Saint Mary's lacrosse team worked through some jitters and gained a lot of valuable game experience in the Belles' 16-1 loss on Monday night at George Fox University.
It was a tale of two halves for the Belles against the Bruins, who were playing in their fourth game of the year. George Fox mounted a 5-0 lead through the first ten minutes of play. Saint Mary's held the Bruins to two goals during the next ten minutes of the opening half, but George Fox extended their lead to 12-0 with 2:28 left before the halftime break.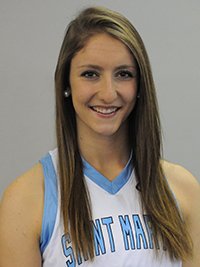 Emilie Vanneste had the Belles'
goal at George Fox.The second half saw the Belles limit the Bruins to four goals while breaking through for their first goal late in the half. With George Fox ahead 14-0, Emilie Vanneste put the Belles on the scoreboard with an unassisted goal with 7:01 remaining in the game.
The Bruins added two more goals over the final six minutes for the 16-1 final score. George Fox out-shot the Belles by a 26-11 margin. The Bruins also picked up 17 ground balls to Saint Mary's 11, but the second half margin was just 6-5 in favor of George Fox. The Belles cut their turnovers nearly in half from the first period to the second.
Emilie Vanneste led Saint Mary's with four total shots and the Belles' goal. Clare Theisen added three shots, and Aubrey Golembieski had two shots. Mary Grace Heller caused two turnovers, and Shannon Weyer had three ground balls and eight saves in her goalkeeping debut for the Belles.
Saint Mary's (0-1) makes the short trip south to Pacific University to take on the Boxers at 5:00 p.m. PDT.