Coaching Staff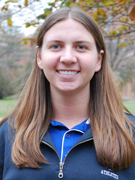 Head Coach - Amy Long
Amy Long enters her third season as the head lacrosse coach at Saint Mary's College during the 2015-16 academic year.
During the Belles' inaugural season of lacrosse in 2014, Long coached the team to a decisive win over Illinois Tech and also guided the program to their first conference win in program history with an overtime victory against Trine. Long had a member of the team recognized as MIAA Defensive Player of the Week and the Belles later earned IWLCA Honor Squad status for their academic success.
In the team's second season, the Belles more than tripled their win total from their inaugural year while increasing or improving in nearly every statistical category from 2014 to 2015. Additionally, two members of the team were named Second Team All-MIAA, becoming the first players in the history of the program to be named all-conference. Academically, the team continued to excel and earned IWLCA Honor Squad status for the second consecutive year.
Long came to Saint Mary's with a range of coaching and educational experience. She served as the head coach of the Sylvania High School Girls' Lacrosse team and has held assistant coaching positions with the University of Toledo and Siena Heights University lacrosse programs. A Level 1 and Level 2 trainer with the U.S. Lacrosse Coaching Education Program, she teaches lacrosse coaches about the game during their certification process. Additionally, she is a U.S. Lacrosse level 3 certified, which is the top certification offered by the governing body. She has also taught undergraduate students the skills and strategies of the game of lacrosse at the University of Toledo.
Long is a 2009 graduate of the University of Toledo. She was a double major in marketing and professional sales and graduated cum laude with a bachelor of business administration. In August 2012, she completed her master of arts degree with a concentration in organizational leadership from Siena Heights University.
Assistant Coach
Caitlin Sears
Caitlin Sears enters her first year as assistant coach for the Saint Mary's lacrosse program during the 2016 season.
Sears joins the Saint Mary's coaching staff after serving as the head coach of St Joseph High School's girls lacrosse team for the 2015 season, where she coached the team to an 8-6 record. Previously, she served as Assistant JV Coach at St Joseph High School during the 2014 season.
Sears's experience as a player includes two years with the Seattle Women's Post-Collegiate Lacrosse team, three years with Ithaca College Women's Club Lacrosse, one season with McDaniel Women's lacrosse, and four years at Hempfield High School in Pennsylvania. She also is currently developing a post-collegiate women's lacrosse team in the Michiana area.
Sears is a 2011 graduate of Ithaca College, and received her master of science in 2013 from the University of Washington. She works as a Speech-Language Pathologist at Elkhart General Hospital.