Why the Liberal Arts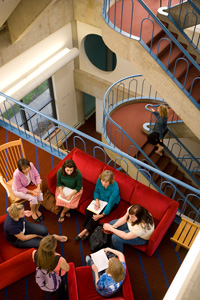 Saint Mary's classic liberal arts education will prepare you for a lifetime of thinking, learning, growing, and achieving. We're looking past your first job out of college and toward a varied career and fulfilling life.
Developing lifelong skills
We focus on writing across our curriculum. Our conversational classroom style leads to in-depth discussions that teach you to think logically and critically. As a senior, you'll prepare a comprehensive project or take an examination that allows you to apply the knowledge you've gained in your field of study to one culminating activity. Our goal is to help you develop the skills you'll need in a constantly changing workforce and global economy.
Acquiring knowledge
You'll learn a variety of subjects to better understand the world around you. And rather than specialize in just one specific area, you'll take a broad view to discover the many connections between widely varying disciplines. The liberal arts provide you with the tools to become a more sophisticated problem solver and a more creative thinker. Sophia, which means "wisdom" in Greek, is the name we give to our general curriculum. But, it's more than a general education program, Sophia is the foundation for all our majors. You will acquire knowledge across disciplines and the ability to apply that expertise inside and outside of the classroom.
Discovering interests
Covering a range of disciplines, from art to the sciences, you'll be pushed outside your comfort zone and sample subjects you've never before considered. It may take you on an unexpected career path or lead to new interests that you incorporate into your planned area of study.