Life After Saint Mary's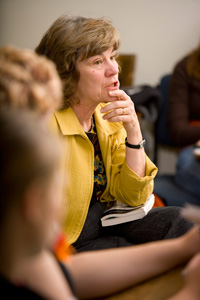 Join more than 20,000 living alumnae who've studied in Saint Mary's historic buildings. Like you, they developed knowledge, confidence, and lifelong friendships on our campus. Now, they continue to make a difference in their communities and achieve success in their careers.
Statistics
Almost 65 percent of Saint Mary's recent alumnae are employed full time in careers in industry, business, education, and government. More than 30 percent attend graduate or professional school immediately after graduation. More than 90 percent say they are well satisfied with their Saint Mary's experience.
Achievements
Here are just a few of the remarkable women who've graduated from Saint Mary's College:
Donna Christian-Christensen '66, M.D.
U.S. House of Representatives
Virgin Islands
Carol Ann Mooney '72, J.D.
President, Saint Mary's College
Notre Dame, Indiana
JoAnn McDermott Reed '77
Chief Financial Officer and Senior Vice President, Finance
Medco Health Solutions, Inc.
Franklin Lakes, New Jersey
Roseann Enyedy Cyngier '81, Ph.D.
President, Cyngier Systems Management, Inc.
Cleveland, Ohio
Deborah Vondrasek '86
Principal, Nazareth Academy
High School
LaGrange Park, Illinois
Emilie DeAngelis '97
Assistant Director of Government and
Foundation Relations,
Art Institute of Chicago
Chicago, Illinois
Michele Jarosick Smith '98
Group Leader,
Lancaster Laboratories
Lancaster, Pennsylvania
Kelly Walsh '01
Casualty Underwriter, CNA Foundation
Chicago, Illinois
Sarah Brown '05
Washington College of Law,
American University
Washington, D.C.
Jinqui Guan '11
President,
Creative Capaties International
India and Haiti
Silvia Cuevas '13
Business Analyst
Target Corporation
Minneapolis, Minnesota