Local student connects with community through robotics
By Emerald Blankenship '17
Michelle Lester '20 is forging her own path at Saint Mary's. As a first-year student, Michelle started a FIRST Tech Challenge (FTC) league robotics team with her dad's help. Team members come from various middle and high schools in the area.
Michelle's FTC team works out of GEARS (Granger Exploration and Robotics Studio). Although her team is just started last year, they have already had great success.
"My FTC team won 2 of the 3 competitions they've competed in, which never happens when you're a rookie. We are ranked sixth in the state right now for FTC. It was more exciting for me as a mentor to see them win because I knew that I'd given them the tools to do that. These kids are incredible."
Building Her Place On Campus
Michelle can honestly say she feels she made the right decision coming to Saint Mary's. In addition to starting the FTC team, she is also the founder and president of a new robotics club on campus, Bellebots.
"I love it here. There are a lot of opportunities, so obviously I've gotten involved! I even made my own opportunities!"
The club is already gaining traction as new members join at each meeting. Michelle plans to turn the club into a team eligible to compete in collegiate robotics competitions.
One Passion Leads to an Unexpected Goal
Ask Michelle her intended major, and one might be surprised to learn the rising sophomore is pursuing political science.
"When I talk to someone about robotics, they expect engineering, but when I was on a team in high school, I wasn't good at that part. I learned I was really good at public speaking, and I really liked arguing for what I believed in. Now, I want to go to law school."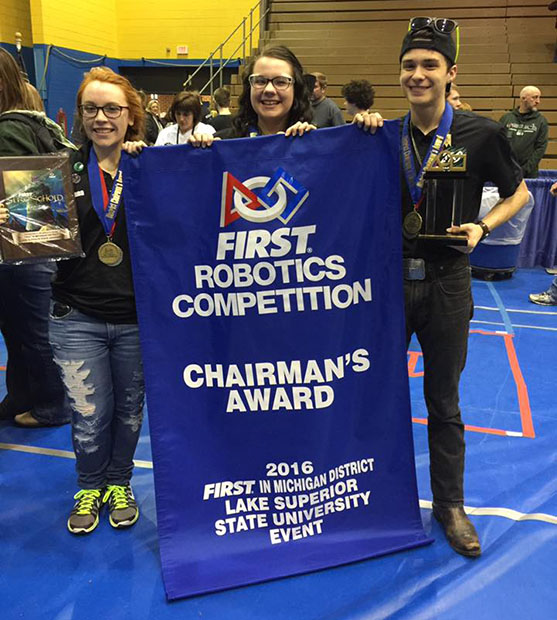 Michelle treasures her experiences with her teams and has plans to stay involved in the robotics community wherever life takes her.
"The experience we have here with GEARS is very unique. There aren't a lot of places with robotics studios to work out of, so eventually I'd like to make enough money that I can open one wherever I end up. I think that's really valuable, because every day we're there, we get to work with other teams and run our robots together."
Michelle commented on the push for women in robotics. Large organizations like FIRST Robotics are focusing initiatives to get more girls involved.
"We have four kids on the team, and only one of them is a girl. She's an eighth grader, so she's also the youngest, but she is definitely the leader. There are senior boys on the team, and she tells them what to do. And, she's usually right. They get along very well!"