Love Your Body Week
"Love Your Body Week" raises awareness on campus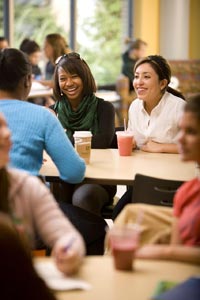 Saint Mary's students are combating fears of the "freshman fifteen" and other body concerns this week. "Love Your Body Week," is a series of events to raise awareness of women's issues on campus, in the community, and around the world. The week includes presentations and conversations about body image, and a visit from natural lifestyle expert Joanna Livieratos. It culminates with a reading by campus author Terri Russ.
Russ, an assistant professor in the Communication Studies, Dance and Theatre department at Saint Mary's, has talked to hundreds of college-age women and has yet to meet one who is satisfied with her body, even if she wears a size 2. It's the subject matter of her new book to be released on Thursday, called Bitchin' Bodies.
"Women in college soon realize that no matter how much education they get, they are prized first for their body. They are forced to learn how to manage this pressure in addition to all the other pressures of college life," says Russ, who did not interview Saint Mary's students for the book.
The work of a communication instructor, Russ' book is largely made up of recorded dialogue of young women talking about their bodies. Russ believes that by listening to women talk about their quest to have an ideal body, we can better understand how body dissatisfaction impacts all women.
Love Your Body Week will conclude Thursday evening with Russ hosting a reading and book signing at 7 p.m. in Student Center Lounge. The event, which is free and open to the public, will include students performing an interpretive dance. Senior Becki Faunce, director of the Women's Resource Center, says "Love Your Body Week has been a very popular event with students in the past. We are hoping to continue the momentum with a fun, informative, and inspiring week."