Madrigal Dinners
Saint Mary's College to present 35th Madrigal Dinners; students plot the fate of the boar's head!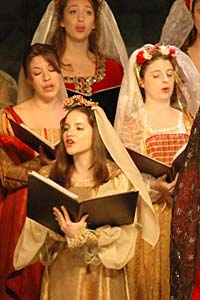 Christmas at the College – the decorated tree in the dining hall, evergreens and wreaths hung from the windows of our stately buildings, the twinkling lights on the evergreens in front of Le Mans Hall – the sights and sounds that make the holidays a special time for students and staff. One of the strongest traditions and a sure sign that Christmas is on the way is the presentation of the Madrigal Dinners, where student-performers change into fine ladies caroling in elegant gowns and a dorm lounge turns into a holly-and-ivy decked great room. Madrigal Dinners at Saint Mary's have always been about transforming the modern into the medieval. Jugglers, singers, and actors circulate around the room giving the audience something to look at and listen to as they dine.
Students who audition and perform at the Madrigal Dinners, many of whom who are in the Women's Choir, can receive an academic credit for their effort. But, beyond the credit comes the experience of a mixed music/theatre production. The close interaction with the audience, at times directing the performance at one table or diner, is a unique opportunity for these young women.
And, beyond the performance, there is that boar's head! Every year Professor Nancy Menk, who directs the performances, drives to a meat-packing plant, loads the pig's head into her car and drives it back to the College. The glazed and decorated boar's head is a traditional centerpiece of the dinners. But, alas, after performances on Friday, Saturday and Sunday, the fate of the boar's head falls to the student-performers. It is an annual tradition for the student-performers to come up with a creative "encore" for the boar's head. Whether it's to decorate the island of Lake Marian at the College or Professor Menk's front lawn, it's become a performers' tradition to get one last show out of the head.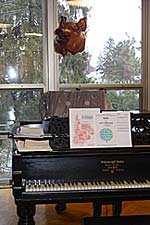 This year, after the dinners, which took place November 30 through December 2, the pranksters were at it again - the boar's head "appeared" above the grand piano in Professor Menk's office. Hopefully, it didn't stay long!