Faculty Profiles
Accounting Professor Mary Ann Merryman brings the classroom into the real world and vice versa.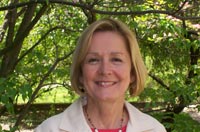 A penchant for logic led accounting professor Mary Ann Merryman to become a Certified Public Accountant (CPA) after college graduation. "I'm one of those weird folks that decided in high school," she says. "I thought 'well I'm kind of a logical, ordered kind of person' and always did well in math. I seemed to have the quantitative skills and the analytical skills and thought it was kind of an interesting field." Since then Merryman has worked in public accounting and in the not-for-profit sector with the Sisters of the Holy Cross.
When a Saint Mary's professor invited her to teach a principles of accounting course 25 years ago, Merryman fell in love with teaching and the College. She has been teaching at Saint Mary's ever since. Now, as the chair of the Department of Business Administration and Economics, Merryman teaches upper level courses for accounting majors and advises dozens of students each semester.
One of Merryman's favorite things about teaching accounting is the subject's applicability to real-world situations. "I try to bring the classroom into the real world," says Merryman, "But when that's not possible, I bring the real world into the classroom." Trips to local businesses and accounting firms, speakers, group activities, class presentations, and functions that teach students how to network are all standard in Merryman's classroom and the accounting major as a whole.
Merryman is big on teaching subjects that have real-world application. She doesn't want to be "confined to a textbook." One area of accounting she has developed an interest in is particularly timely. "I have a passion for fraud—not perpetrating it!" she laughs. Merryman developed Saint Mary's first course in fraud examination. The course is an upper-level elective.
"Fraud examination and 'forensic accounting' are growing areas in the profession," she explains. "In a way it's unfortunate, but when a case that breaks in the news, like this recent $50 billion Wall Street fraud, you understand why the need for this kind of expertise is so important." While on a recent sabbatical, Merryman studied for and passed the examination to become a Certiified Fraud Examiner.
For Merryman, one of the best parts of teaching at Saint Mary's is that she gets to learn along with her students. "Doing what we do as educators, we get to start all over again every semester." She stays in communication with her students long past their graduation. "You develop those long-term friendships and relationships," she says. "I've been here for 25 years and I'm still very close to those alumnae that I taught in my first few years here. I don't think that happens at all institutions."