Alumnae Profiles
Ready, Set, Go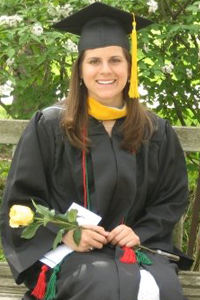 Graduate Alexandra (Alex) Tulisiak '09 says she chose Saint Mary's because she knew that she would have an amazing experience and get an excellent education. Alex accomplished both, through the many opportunities she had to be involved in campus life and in the community, and through the small class-sizes and interaction with professors who care. "I love the small classes and individual attention you receive from professors," says the native of Medina, Ohio. "I knew that I could go to them for help whenever I needed it and I knew that they would do everything in their power to help me."
The former biology major says her favorite class was U.S. History Since 1865 because, "the professor kept us engaged in the topics we were discussing, and his choice of supplementary materials, such as documentaries and books, really helped to emphasize certain events in history." She also enjoyed working with her senior comprehensive advisor, Dr. Richard Jensen, particularly in her field botany class. "Professor Jensen would take our class outside for lab and we would choose random plants and use our identification skills to determine what the plant was. It was always a lot of fun," says Alex.
Alex kept busy throughout her college career, participating in the biology club, photography club, Italian club, Peer Ministry , Campus Ministry , Bible study, Read to a Child volunteer, and as a volunteer at St. Joseph's Regional Medical Center. She also worked on the yearbook and was a resident assistant.
In addition to studying abroad in Rome during the spring of 2007, Alex participated in the Appalachia Seminar at the University of Notre Dame in the fall of 2007. "I went to West Virginia and had a wonderful opportunity helping the people who live there," describes Alex. "It was amazing to interact with them and work together to make life easier and better for them."
Alex is now attending the DePaul University master's entry to nursing practice program.
Research in the Real World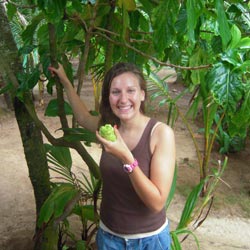 What kind of research involves traveling to distant locales and scuba diving around coral reefs? Biology alumna Andrea Krebs's research did. Her senior comprehensive project involved research she conducted through study abroad on Little Corn Island, Nicaragua. Andrea, fellow former biology major Jen La Vigne '09, and professor Nancy Nekvasil spent eight weeks on the island in the summer of 2008. During her stay, Andrea worked at an eco-tourist lodge, developed a passion for scuba diving, and conducted scientific research.
Andrea's senior comprehensive project was a study of the uses of the noni plant, which grows all over the island, and is used medicinally by the native people. Her research turned out to be more anthropological than biological in nature. Andrea interviewed the locals about how they used the plant and how they perceived its effects on the body. "My research consisted of making contacts throughout the island and interviewing as many people as I could to get information on noni…I asked other questions about how people view medicine in general and I also talked with the local doctor to get her opinions on the noni and whether or not it works," Andrea explains.
Andrea says the independent nature of her project has prepared well her for a future in medical or graduate school. "I learned new things about myself every day that I was on Little Corn. It was an independent project for which I planned how I was going to use my time," Andrea explains. "Doing interviews in Spanish and English, with a variety of people, was fascinating, and I learned a lot from the people about the culture and history of the island." Andrea went on to a service position "in a medical capacity" with the Sisters of the Incarnate Word in Monterrey, Mexico.
A Hunger for Change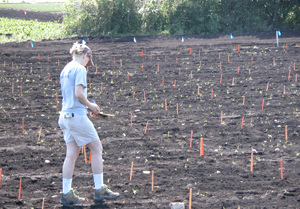 Nichol on the Muck Farm, one of MSU's research facilities
in Bath, Mich. She is taking data on emergence
(how many buds have sprouted).
Nicole Thaner Nichol '06 went from the science lab to being part of the solution for an ongoing international crisis that claims the lives of 13,000 children per day. Nichol is a biologist working toward her PhD at Michigan State University (MSU) and she's conducting research that she hopes will help eradicate world hunger.

Aside from her general duties as a graduate student and graduate teaching assistant at MSU, Nichol spends her time in a potato field. She is engineering potatoes for drought tolerance using a transgenic approach—introducing a gene into potatoes that helps the plant maintain the water content in the cells to tolerate drought stress.

Her work builds on research she conducted as part of a Saint Mary's course on economic botany, throughout which she theorized that it would be beneficial to integrate more protein into rice grains since it is estimated that half the world's population subsists on rice. The idea hooked her on molecular biology and she began planning a career in either industry or academia where she could both teach and continue her research.

Nichol's plant breeding and genetics research has always been focused on topics that will make a positive difference in peoples' lives. Her work is inspired by the Bible story of Jesus and the loaves and fishes, by the idea that one can always expand upon the resources at hand. She attributes that inspiration in part to her Saint Mary's education.

"If it hadn't been for the liberal arts education, I don't know if I would be looking at basic science questions with the intent to apply those to global issues and understand the broad implications of my works," says Nichol.
Nichol chose a career in plants because it's how she could best apply her skills to solve one of the world's major problems. "My experience at Saint Mary's made me want to go out and find a way to feed and nourish the world, and I still believe that I can be part of the solution to world hunger."
Rising Star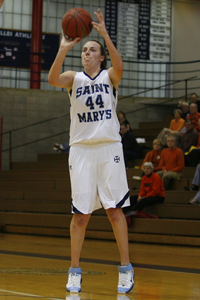 When alumna Nicole Beier '09 graduated from Saint Mary's, she left at the top of her game. The Fort Wayne native played both soccer and basketball, and was the recipient of the 2009 Competitive Spirit Award. The award is presented in recognition of demonstrated passion and love for the sport through work ethic, desire to succeed, commitment, and dedication. Nicole showed this initiative in both sports. "Over these past four years, Nicole has made such a positive impact on our athletic department through not only her talent for sport, but also in how she so beautifully modeled team work, dedication, and perseverance when faced with adversity," says Athletic Director Julie Schroeder-Biek.
Nicole played for the Belles soccer team during the fall of her senior year, even though she hadn't played since high school. "Many days she could be seen arriving early to training or staying well beyond the conclusion of practices, honing her skills," says soccer coach Ryan Crabbe. "Nicole may not have logged the most minutes or started every game—however, her love of sport and competition were apparent by the way she trained and prepared herself day in and day out."
Nicole excelled in basketball, leading her team with a three-point shooting percentage and being named one of the top 12 players when she was awarded 2nd team MIAA honors. These accolades came even after being sidelined 17 games into the season, due to a foot injury. "Despite this, she never missed a practice or game and she continued to find ways to contribute from the sidelines," says basketball coach Jenn Henley.
Nicole chose Saint Mary's because she wanted to go to a college close to home. "And when I visited here I fell in love with the place. The campus is absolutely beautiful," says Nicole. Nicole also came to love the Saint Mary's community as a family. "I have built many great relationships over the past four years here."
In addition to her sports endeavors, Nicole also participated in biology club, anthropology club, the Student-Athlete Advisory Committee (SAAC), and she coached a youth basketball team every summer. "I have younger siblings and I have always enjoyed sharing my skills and love for basketball with younger people," says Nicole.
The former biology major says her favorite class was ornithology with Professor Doris Watt. "I loved the field trips that we took," says Nicole. "Thanks to this class, I can't go outside without stopping to listen to the birds."
While Nicole plans to be a lab technician in a cancer research lab, it's her past at Saint Mary's that contributes to her future success. "I am confident that as Nicole opens this next chapter of her life after graduation, she will continue to be a positive force in the lives of those fortunate enough to work with her," says Schroeder-Biek.
The Doctor is In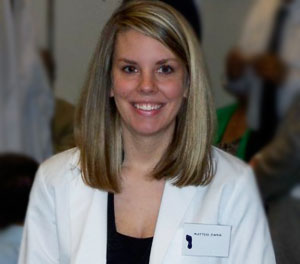 Alumna Jamie Matteo '08 hears a lot of her podiatry school classmates talking about what a major transition it was from undergraduate studies to medical school. She says her transition wasn't nearly as difficult.

"I credit this to the professors at Saint Mary's who were constantly raising the bar and challenging us to be the best we could be," she says.

Matteo graduated from Saint Mary's in 2008 with a degree in biology and a chemistry minor. She left prepared to enter the Ohio College of Podiatric Medicine where she is working toward a doctorate in podiatric medicine (DPM).

Matteo is also the clinical director at the Free Clinic in Cleveland, Ohio. She was elected to this volunteer position by the American Association of Women Podiatrists. The Free Clinic offers podiatric treatments free of charge to patients once a month.

Matteo recruits fellow medical students to volunteer their services at the clinic and coordinates with the attending doctor who overseas the clinic, and other doctors, to make sure each patient is seen by both a medical student and a doctor.

Matteo says that through her volunteer positions—she is also a science tutor at the Great Lakes Science Center—she is able to put into practice something that Saint Mary's imparts to all students—the desire to make a difference in the world.

"I think that the confidence and abilities I gained as a student have allowed me to pursue my education in podiatric medicine. My experience at Saint Mary's sparked my determination to actively make a difference in this world, even if it's just a small one," she says.

But Matteo's work as a podiatrist is likely to make a big difference to many people. Her goal is to serve people in underdeveloped countries who are in need of healthcare services and medical attention.