Student Profiles
Bird's-Eye View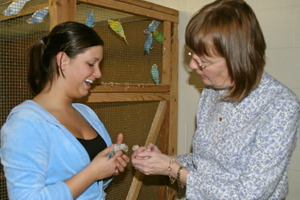 Laura Powell with Dr. Doris Watt in aviaryA visit to Saint Mary's was all that it took for Laura Powell to know that she had made the right choice. And then she received her class t-shirt with the slogan, "We promise you discovery of yourself." The Lima, Ohio, native says she initially thought nothing of it, but after her first year she realized Saint Mary's had kept its promise. "I believe that life is what you make it, and Saint Mary's provides many opportunities for any student to succeed in whatever they want for their life."
For the sophomore biology major, that would be going to a school of veterinary medicine and eventually becoming a veterinarian. She says she knows that Saint Mary's is preparing her for that through its outstanding biology program, and its high acceptance rates into veterinary and medical schools. "I also know that the small classroom setting gives me a chance to collaborate with the professors," says Laura.
Laura is an Animal Room assistant, responsible for the care of lab animals. She also cares for parakeets in the science building three days a week, and she has joined Professor Doris Watt in her avian blood cell research. Laura says Watt has made a huge difference in her studies at Saint Mary's. "I feel that there was a mutual likeness and respect from the beginning, but what has really made an impact is her belief and confidence in the fact that I can succeed. I have never had a teacher or professor support me the way that Dr. Watt does. Every time an opportunity arises, especially concerning animals or biology, she always thinks of me and invites me to join in some way."
Laura is involved in the Saint Mary's Future Women Doctors' Club, the Saint Mary's College Biology club, and the Notre Dame/Saint Mary's College Pre-Vet club, which has provided her with the opportunity to travel to American Pre-Veterinary Medical Association symposiums. Laura, who has a minor in dance, teaches dance at Southold Dance Theater and Gymnastics Michiana. She is busy in the summer months working for Cheerleaders of America, where she travels around the U.S. teaching at cheer camps for children. In her spare time she volunteers at the Humane Society of Saint Joseph County.
Laura says her favorite class was poetry writing with Sister Eva Hooker, CSC. "The best part about it was the fact that everyone in the class, including Sister Eva Hooker, had a strong bond with each other because we were sharing such personal thoughts."
Laura takes full advantage of all that Saint Mary's has to offer, including financial assistance that helps make her attendance at the College possible. "With all the help Saint Mary's has given me, my tuition would almost be equivalent to a public school," says Laura. "I am truly blessed."
Go Blue and White!
Sophomore Paige J. Amaya-Edmonds divides her time between the lab and the court. When she's not busy with her coursework, Paige proudly sports Saint Mary's blue and white, cheerleading on the sidelines at Belles athletic events.

An intended biology major with a concentration in cellular and molecular biology, Paige is planning a career in genetic counseling. This Belles cheerleader wants to keep encouraging others, not from the sidelines, but in the healthcare field, working with directly patients who struggle with birth defects or genetic disorders.

As a genetic counselor she'll identify families at risk, investigate any health issues present in the family, interpret information about the disorder, analyze genetic patterns and likelihood of recurrence, and review available options with the family. Genetic counselors also provide counseling to families, act as patient advocates, and refer families to community services for treatment or education.

"I have known for a while that I want to work with genes and cells and I also want to help people. So I sought out a career that combines both my passions," says Paige.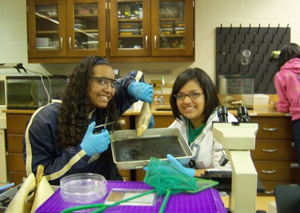 The investigative career path she has chosen suits Paige perfectly. She loves to unravel a good mystery. Her favorite course at Saint Mary's so far was a mathematics course with Professor Joanne Snow. "She is a professor that makes learning fun and interesting. Instead of looking at homework as boring math problems, I was able to turn them into challenging puzzles and that made them exciting," says Paige.

Professor Snow is one among many faculty and staff members who've encouraged Paige in her studies. "I love the sense of community and family on campus," she says. "Everyone really wants to see you succeed and will go to great lengths to help you." Thanks to that support and a lot of hard work, Paige is making her way successfully through a major in biology with concentrations in both cellular and molecular biology and minors in social work and women's studies.

When she's not in the lab, you'll find her on the basketball court, lending support to the Belles basketball team, among others.
Nature Connection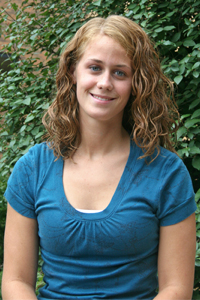 Imagine spending your summer in Puerto Rico, basking on smooth volcanic rock boulders, swimming in natural watering holes, and hiking in nature. Sounds like the perfect vacation—and it would be, if that were all that senior Ashley Recupito did. Instead, the biology major spent her summer in Quabrada Sonodora in El Yunque National Park, in Rio Grande, Puerto Rico, as part of the Research Experience for Undergraduates (REU) program, sponsored by the National Science Foundation.
Ashley participated in the ecology program with nine other undergraduates at the Universidad de Puerto Rico Rio Piedras (UPR). Ashley says she lived in modest quarters with 30 other people working in the rainforest on long and short-term research. Her ten-week research focused on "leaf decomposition rates of native and exotic leaf species within tropical Puerto Rican streams, and the affect aquatic insects and fungal spore assemblage have on the breakdown rate of the leaves." At the end of her research, Ashley presented a scientific research paper to the university symposium.
When she wasn't conducting research, Ashley did have the opportunity to enjoy nature, including runs up the Luquillo Mountains, and swimming in a bioluminescent bay. "Often we would take night hikes through the forest observing land crabs and the 16 different species of the loud coqui frog present. We would end the hike at the canopy tower, which was 20 meters up above the canopy. There, you could see all the way to San Juan, and the whole mountain ridge we were surrounded by. The stars were so brilliant up there. It was during these times that I had no doubt in the existence of God, and I felt closer to Him. It's funny how a summer in nature can reconnect you to your spiritual life," says Ashley.
Back on campus, Ashley is involved in a number of activities. She is the president of the Biology Club, and a member of Beta Beta Beta. She has also been a resident advisor (RA) the past three years, and is an RA in Opus Hall this year. Ashley also volunteers at Memorial Hospital in South Bend.
Ashley credits biology department professor Richard Jensen and department chair Nancy Nekvasil with being great supporters. Nekvasil is quick to point out that Ashley's summer research experience was something she chose to do on her own, even though her research requirements had been met. "She has been a great role model for younger students, showing that you can pursue research experience as early as the sophomore year," says Nekvasil. "Your education is what you make it–you don't have to wait on something to impact you. Go out and find things you're interested in. Ashley is someone who has done that."
With a minor in chemistry, Ashley says she plans to enter an accelerated nursing program. "Saint Mary's biology and chemistry departments are wonderful. The staff and faculty has pushed and challenged me. I feel more than competent and I know that I can succeed in whatever I do because of how they have prepared me."
Above All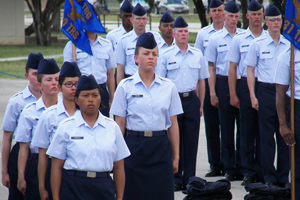 Caitlin Ascherl spent six and a half weeks in sunny San Antonio, Tex., last summer—but it wasn't all about fun and sun. The first-year biology major spent the time with 56 other like-minded women in basic military training for the Air Force. Caitlin was selected to be an element leader, along with three other women, each in charge of about 12 people. A dorm chief supervised the entire contingent, and after three days, that person was "fired" and Caitlin was promoted, taking on a huge responsibility. "If anyone did something wrong it was my fault. I learned to deal with diverse situations, with women from all across the nation as well as some women from overseas," explains Caitlin, who supervised women between the ages of 17-34. "We started out different, and as individuals, but grew together as a team."
Caitlin's day began at 4:45 a.m. with physical training. During her time there she went through a gas chamber, learned to shoot an M16 rifle, and lived as if in a combat zone, all without the comforts of television, phones, or junk food. "The greatest feeling was when we graduated and got to see our families for the first time in six and a half weeks, when we were promoted from trainees to Airmen."
Caitlin is engaged in life on Saint Mary's campus as well, participating in the women's liturgical choir. She's also a member of the Reserve Officers' Training Corps (ROTC) at the University of Notre Dame. She enjoys her biology classes and she plans to be a doctor in the Air Force. Caitlin says she feels that Saint Mary's gives her the opportunity to participate and experience more than she would have had she gone to another school. "Saint Mary's caters to the needs of the students. Each professor knows me and cares. And caring is the biggest part."
Astonishing Details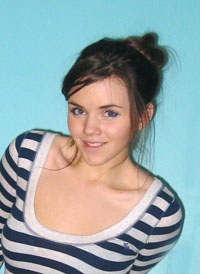 First-year student Leah Judge is captivated by the intricacies of the human brain. She has big plans to attend medical school, do a residency, and eventually practice neurology. The Springs, Mich., native intends to pursue a biology major at Saint Mary's with a minor in communicative disorders. "Biology explores the magic of the world with profound and excited curiosity, maintaining respect and admiration for the beauty of life," says Leah. Her own profound curiosity and enthusiasm for the subjects she loves motivate Leah to explore them at Saint Mary's.
After a couple of visits to the College as a high school student, Leah was sold on the biology department. She was looking for an exceptional program with an intimate atmosphere and found it here. She says that now, her professors truly know her and delight in her success. Being surrounded by such encouragement is all the more inspiring. "The people around me, through their words and actions, are teaching me the power of kindness, caring, and leadership," she says.
In her free time, Leah plays the piano and violin, sings, and plays sports. A first-year student, Leah has plunged whole-heartedly into the Saint Mary's community and made some good friends in the process. She also works at an area hospital and volunteers at a child-care facility.
As for her future career, Leah speaks of her interest in neurology and the structures and functions of the body. "It would be an incredible privilege to be able to study the brain, the adverse effects of its diseases, and the treatment of diseases in further detail," she says. Leah's passion for what she calls the "astonishing details" of life has made her a dedicated student of biology as she pursues her ultimate goal of helping others with knowledge gained from her studies.
—Sarah Sheppard '11