Alumnae Profiles
Bullseye in Business
The responsibility for financing college fell on her shoulders, and like the 95 percent of Saint Mary's students who receive financial aid, Silvia Cuevas '13 was determined not to allow financing to limit her college options. "Great things come with hard work," says Silvia. "It was frustrating to write scholarship essays, but you had to stay motivated. You just can't give up."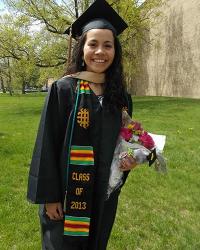 Silvia Cuevas '13Her determination paid off with a financial aid package that wasn't typical, with an exceptional mix of scholarships and grants that included Hispanic Women's Forum Scholarship, Saint Mary's Grant, and Father Basil Moreau Scholarship.
Alumnae fund those scholarships, and Silvia will never forget it. "I am so glad that through generous alumnae, I became a Saint Mary's Belle. God is good, people are good, life's good! Scratch that—they're all GREAT!" she says.
Grateful to be at Saint Mary's and having worked so hard to finance her education, Silvia was determined to make the most of her time here, exploring interests in addition to studying her business administration major with concentrations in finance and international business.
Cuevas was part of the Intercultural Leadership Program through the Center for Women's Intercultural Leadership, a program that deepens students' understanding of the ethical and spiritual dimension of leadership. She served as the voice for students on the Commencement Committee, and helped plan Heritage Week, which invites current Saint Mary's students to attain a deeper understanding of the founders of the College, the Sisters of the Holy Cross. She was the mission commissioner for the Student Government Association (SGA), a member of the SGA Finance Committee, and liturgical minister for Campus Ministry. She was also elected senior class president.
Because of her participation in many facets of campus life, Cuevas was awarded the Outstanding Senior Award in 2013. Presented by the Alumnae Association Board of Directors, the Outstanding Senior Award is given to the nominee who carries out the beliefs of her faith in daily living and is distinguished by scholarship, leadership, and dedication to Saint Mary's through participation in curricular and extracurricular activities.
"I am very honored to receive this prestigious award. My Saint Mary's experience has been incredible. I want to thank my peers, my professors, and staff for these phenomenal past four years. My mind and heart have been exposed to so many great things. My heart will always be at Saint Mary's and will be one of my favorite chapters to look back on in my life," she said.
Determined, driven, and involved, Cuevas took the experiences from Saint Mary's out into the business world. Cuevas now works as a business analyst for Target at the corporate headquarters in Minneapolis.
Alumnae Fellowship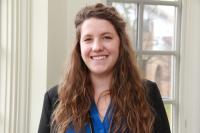 Nichole Clayton '13 is the latest Saint Mary's student to receive the Orr Fellowship, a two-year postgraduate opportunity that connects high potential professionals with dynamic, fast growing entrepreneurial companies in Indiana. For the next two years, Clayton, a communication studies and business administration double major, with a concentration in management from Bay City, Michigan, will work with her Orr Fellowship host company Courseload.
According to Ashton Chaffee, offline marketing champion for the Orr Fellowship, and second year fellow at Slane Capital Partners, "In addition to the unique professional experience Nichole will encounter, the Orr Fellowship delivers executive-level mentorship, the ability to build an impressive professional network through business leader meetings, and professional development opportunities. Since 2001, more than 130 young professionals have jump-started their careers by participating in the program."
Clayton started her journey to the fellowship through her connection with Saint Mary's alumnae and current Orr Fellows Melissa Jackson '12 and Amanda Lester '12. Jackson and Lester were the first Saint Mary's students to have been selected for the fellowship. "Melissa and Amanda came to my Strategic Management class to discuss the opportunities within the fellowship," recalled Clayton, who applied for the fellowship soon after the class visit. "It was a long process, filled with a series of in-person interviews, personal essays, and meet-and-greet information sessions. After each event a few more candidates made it through. With each step you had a current fellow that was guiding you. In my case it was Melissa."
Clayton said the process started in September and ended in December with what's called Finalist Day. "Finalist Day was an exciting yet grueling day of interview. I drove down to Indianapolis and was interviewed by four different companies. It was like speed dating but with interviews," Clayton said. "A half hour after my last interview for the day, I received a call from the director of the fellowship offering me an position with Courseload. The hard work paid off and I couldn't be more excited." Clayton will be working in the marketing and sales department at Courseload.
Market Maven
As a kid Paige Olney Zars '09 crafted her own play business cards, brochures, and posters. She also liked learning the jingles to her favorite television commercials. It stands to reason that her childhood pastimes would crop up again as the focus of her career in marketing. Now all grown up, Zars works as a marketing coordinator at JohnsonRauhoff, a communications group based in Saint Joseph, Michigan, which specializes in marketing, product communications, and photography.

But Zars didn't settle on marketing from the get-go. As a sophomore at Saint Mary's, she leaned toward majoring in business because of the broadness of the program, but took her time to give it some serious thought. When she recalled a marketing class she took in high school and how much fun it was for her, Zars decided to go with the business major, but focus on the marketing side of things.

Her decision paid off. "Once I entered the working world, I was shocked at how often I put my knowledge to use," Zars says. She had taken several of Professor Bill Shannon's marketing courses at the College and says his real-world-scale assignments gave her the hands-on experience she needed.

Zars recalls Shannon's "advertising and promotions" course in which students designed a full pseudo marketing campaign for Martin's Supermarkets, which they presented to corporate management as part of their grade. "The project taught me so much about a marketing campaign, from budgeting to learning the terminology, and ways to purchase media such as billboards, radio, and television spots," says Zars. She also minored in advertising and another creative passion, dance.

Zars has come a long way from making pretend business cards. At JohnsonRauhoff she works as the liaison between clients and the creative team, a group of copywriters, graphic designers, and art directors. She is involved in market research, budgeting, and estimates. Recently, Zars worked on two photoshoots for lifestyle guru Katie Brown and even got to appear on Brown's PBS-TV show "Katie Brown Workshop."

In her free time Zars teaches three ballet classes at Dance Arts in Stevensville, Michigan. She is also a new member of Women's Service League, a southwestern Michigan club dedicated to community service.
Cambodian Experience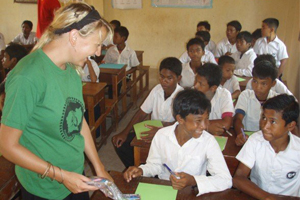 "Experience is the basis of knowledge," says alumna Allison Fleece, a former marketing and international business major. While a student at Saint Mary's, she spent a summer interning with The PEPY Ride in Phnom Penh, Cambodia. The PEPY Ride, a nonprofit organization, seeks to increase education opportunities and offer meaningful volunteer experiences for tourists in Cambodia.
Before that, Allison was no stranger to foreign travel. She spent her entire sophomore year abroad with the Saint Mary's Rome Program. "Rome opened my eyes to the world. I got back to the U.S. and wanted more." Allison filled her void by getting involved with PEPYND, a project which is part of the Marketing and Global Development division of the Student International Business Council. "I was initially attracted to it, because it was international," she says. Her avid involvement with the organization is what led her to intern in Cambodia. "I wanted to experience the PEPY mission first hand and be a more passionate leader for the cause."
Throughout her internship, Allison worked in the organization's main office on various marketing initiatives and letter writing campaigns. Allison said the experience solidified her decision to pursue international business and taught her that she really could work abroad if she wanted to. "There are so many different things I can do with my degree," she says. "I now know I have the potential to benefit the world with my education."
Must See TV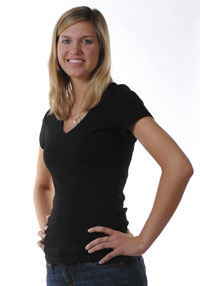 Cara Grabowski left Saint Mary's one step ahead in terms of her marketing degree. A business administration major with concentrations in marketing and international business, Cara also completed minors in both Spanish and math.
Cara was able to gain hands-on experience in her "Advertising and Promotion" class when she and teammates Maggie Oldham'07 and Lauren McCay '08 worked on an assigned project from Teachers Credit Union (TCU) in South Bend. The project involved creating a marketing strategy targeting 18-24 year-olds, showing why young people should join TCU and how they can benefit from the services. Cara and her team came up with the "TCU Take One Ad Contest." The contest was open to the public and entrants were encouraged to film their own commercials. Cara and Lauren were selected as project managers, working on the project as an independent study.
In addition to her real world marketing experience, Cara was the Spanish Club President, participated on the fundraising committee of the Senior Board, and held the position of marketing director for SMC-TV (the campus television station). Though she credits Saint Mary's for providing excellent business courses and opportunities to get involved on campus, she insists that "experience is key" to developing your skills and abilities in preparation for working in the real world.