Student Profiles
Making the Cut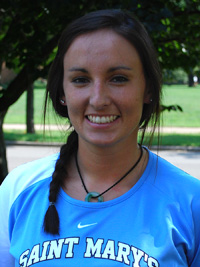 Each year, the same day as Move-In Day for first year students, the soccer and volleyball teams each have sessions of tryouts and practice. To compete at the highest level with just two weeks or less of practice before their first competitions, Saint Mary's student-athletes make a commitment-to themselves and their teams- to be as prepared as possible when returning to campus. For some, particularly incoming first year students, the anxiety of making the team and not knowing what to expect can be a nerve-wracking experience.
An early morning meeting, a physical at noon, another NCAA meeting that evening. Then, early morning practice the next day followed by physical tests and skill-based drills. That's when the student athletes begin to realize college is going to be about making sacrifices and good time management. Soccer player and business administration and economics major Mollie Valencia '14 knows what it's all about. The annual try-outs help to better prepare her each year to make the team. With over thirty students trying out for soccer alone, no one's spot is a given for the fall season. "I definitely was nervous corning into my freshman year," admits Valencia. "I was afraid of not making the team."
But Mollie did make the team as a first-year and every year thereafter, serving as team captain for the 2012 season. Mollie, whose concentration is in accounting, brings that same tenacity and commitment to her academic pursuits. A summer internship in the Internal Audit department of Zimmer (manufacturer and distributor of orthopedic implants) in Warsaw, IN provided Mollie with the opportunity to understand the inner workings of a major corporation.
"I truly believe that Saint Mary's has set me up for success in my internship which has in turn set me up for success in my career," says Mollie. She adds, "the business department has given me knowledge in the classroom that I use on a day to day basis. Additionally, the business department has motivated me to strive to achieve the highest aspiration of an accounting major (becoming a CPA) by sharing stories of Saint Mary's alums. With athletics in my life, I have become accustomed to managing my time wisely which is essential I have come to find out with my summer internship."
After graduation, Mollie plans to get a Master's in the Science of Accountancy. There's no doubt, wherever her post-graduate path takes her, Mollie will be a star player.
-Sarah Miesle '07
In Style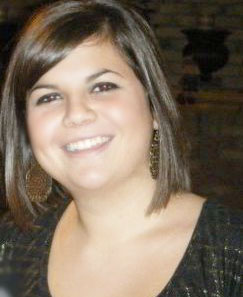 Try telling Katie Gutrich that fashion is a frivolous pursuit. She will probably tell you it's not all bags and shoes. The fashion industry is a $400 million per year business that influences the clothing choices we make each day. Katie, who is planning a career in the financial or marketing sectors of the industry, knows her intended business and economics double major will get her the knowledge and experience she needs to achieve that goal.

In fact, she's gaining valuable work experience right here on Saint Mary's campus. As a member of the Shaheen Bookstore Fashion Buying Team, Katie helps organize Bookstore fashion shows, which requires, among other tasks, meeting with vendors to select the clothing sold in the Bookstore.

Next year, Katie and the other members of the Buying Team plan to promote the Bookstore through commercial advertisements and a short, weekly program on SMC-TV that will inform students of the products and services available to them through the Bookstore.

Katie says she is thankful for the opportunity to gain some fashion and retail experience while still in school. "This job, along with the business courses and professors I am learning from, are preparing me for a career in this field," she says. Katie hopes to intern next summer with a large fashion retailer like Nordstrom's.

In addition to her job and coursework, Katie is involved in school government. The leadership skills, communication skills, and work experience Katie is gaining through her campus activities will be invaluable to her as a future fashionista with good business sense.

—Sarah Sheppard '11
Taking Care Of Business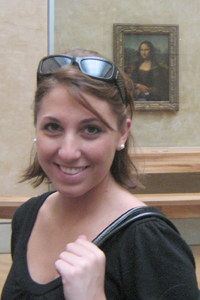 Stephanie Sult had no problem filling her days during summer vacation last year. The business administration major packed her bags and did a whirlwind European Summer Tour, traveling to Paris, London, Edinburgh, and Dublin. She spent a week in each city, studying international business and European history. "This was an amazing experience and I would absolutely recommend it for other Saint Mary's students," says Stephanie.
When her plane landed in the States, Stephanie hit the ground running, starting a full-time internship at OfficeMax headquarters, where she worked in their Sales Effectiveness department. Stephanie, along with 30 other interns from around the country, worked on a summer long project which was presented to the CEO and other executives. "I learned so much from this internship and, as a sophomore, was lucky to have this opportunity."
How did Saint Mary's prepare her for such an all-encompassing summer? "I feel that Saint Mary's really pushes its students to have an abroad experience. I felt that I wouldn't have had the complete 'Saint Mary's experience' if I had not gone abroad. And I am so happy I did," says Stephanie. She credits professor Dave Stefancic with his encouragement to study abroad. "As for my internship, I feel that the business department does a great job preparing its students for real world work experience. I felt very confident going into my internship, knowing I was with other Notre Dame students and students from prestigious colleges around the country."
Stephanie's concentrations are in finance and marketing and she says her favorite class is "Buyer Behavior" taught by professor Joyce Hicks. "This is one of my favorite classes because it brings real-world ideas into the classroom," says Stephanie. "Professor Hicks has made an incredible impression on me because she really cares about her students and what she teaches. She made me love my major even more."
Stephanie's future after graduation could go either way—she'll be testing out her business skills in the workforce or she may pursue a master's degree in business. Regardless of what she chooses, Stephanie will be making a well-informed decision thanks to the resources at the College. "Saint Mary's new Career Crossings center in Spes Unica Hall has many unique features and works hard to help students succeed in any career they are interested in," says Stephanie.