Economics Alumnae Profiles
Island Studies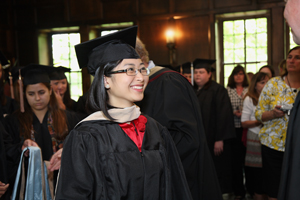 Bai at the Department of Buisness Administration and
Economics hooding ceremony in 2010.
"The role of China is huge now across the globe," says Jerry McElroy, professor in the Department of Business Administration and Economics. For graduate Wenwen Bai '10, China's story is more personal. Bai hails from Chengdu, China, and a few summers ago she and McElroy researched China's position in the island world. They are the 2008 Student Independent Study and Research (SISTAR) Grant winners. The prestigious grant funds summer research and creative pursuits for a faculty-student team.
Bai, whose eventual goal is to earn her PhD from Harvard, was impressed with the scholarly research she and McElroy conducted in a short amount of time. The team studied China's trade investment and aid in the Pacific and Caribbean islands. They published their analysis in an article in the Island Studies Journal in 2009. "I've never been published before," says Bai, who graduated with degrees in business administration and economics. "I wanted to learn how to do research because my goal is to get a PhD. First, I needed to learn how to write academic papers."
McElroy says that Bai's knowledge of China gave other students in his economics classes a new perspective on the global economy. "We used a lot of examples from China, and she was able to reflect on them too," he says. Thanks to the SISTAR Grant, Bai was able to act as a junior colleague in the research process, learning as she went. "I practiced my research skills, for example, how to gather literature, how to analyze data," she says. "Furthermore, I learned a lot about small island economies and what role those small economies play in the globalized world."
Bai graduated cum laude and moved on to pursue her master of science in accounting at the University of Notre Dame.