Economics Student Profiles
Making the Connection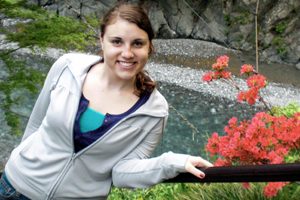 Junior Liz Busam did something a little different before coming to Saint Mary's last fall. She took a year off after high school and lived in Tokyo. "It was an amazing experience to meet so many other people that I would have never gotten to meet. Also, I was exposed to a culture vastly different from my own, which pushed me outside my comfort zone," says Liz. "I learned a lot about myself through the process. I now know that I can survive in a big city by myself."
The economics major from Columbus, Ohio, is doing more than surviving at Saint Mary's. She's thriving. "The best part of being a student here is all the connections you make with other students and the faculty," says Liz. "I think that it is great to have professors that encourage you to try new things and expand your education in any way possible. The influence of all my professors really pushes me to do bigger and better things."
Liz is involved with the Women's Collegiate Choir, College Democrats, and Toastmasters International. "I chose to be in Toastmasters International because I feel that to be successful in any field I need to have the ability to speak well. I love the club because we work on public speaking, but we also get to hear each other's stories."
Liz says her favorite class is Italian conversation because she loves the language and the culture. This should all work toward her immediate plans to study abroad in Rome, and her future plans to do something in international economics. "I hope to learn a lot in Rome next year and take those experiences with me into the work world," says Liz.
In Style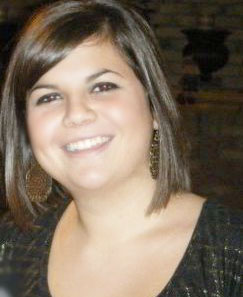 Try telling sophomore Katie Gutrich that fashion is a frivolous pursuit. She will probably tell you it's not all bags and shoes. The fashion industry is a $400 million per year business that influences the clothing choices we make each day. Katie, who is planning a career in the financial or marketing sectors of the industry, knows her intended business and economics double major will get her the knowledge and experience she needs to achieve that goal. 
In fact, she's gaining valuable work experience right here on Saint Mary's campus. As a member of the Shaheen Bookstore Fashion Buying Team, Katie helps organize Bookstore fashion shows, which requires, among other tasks, meeting with vendors to select the clothing sold in the Bookstore.
Next year, Katie and the other members of the Buying Team plan to promote the Bookstore through commercial advertisements and a short, weekly program on SMC-TV that will inform students of the products and services available to them through the Bookstore. 
Katie says she is thankful for the opportunity to gain some fashion and retail experience while still in school. "This job, along with the business courses and professors I am learning from, are preparing me for a career in this field," she says. Katie hopes to intern next summer with a large fashion retailer like Nordstrom's.
In addition to her job and coursework, Katie is involved in school government. She was elected class president her first year at Saint Mary's. She worked with vice president and good friend Torrie Thompson '13 to plan some fun events that included a Welcome Back bonfire for the sophomore class and Sophomore Parent's Weekend.
The leadership skills, communication skills, and work experience Katie is gaining through her campus activities will be invaluable to her as a future fashionista with good business sense. 
—Sarah Sheppard '11