Faculty Profiles
Wordsmith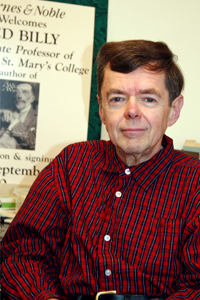 A "gypsy scholar is how Ted Billy describes himself before he landed at Saint Mary's. After ten years of short stints at different universities, the chair of the department of English found his way to Saint Mary's College, in 1987. Billy's love of literature was initially strictly with books, and he had considered a career as a researcher in a large university library. "But I quickly discovered that I was much more interested in connecting people and books."
Billy teaches a number of classes including American literature, expository writing, American Gothic, the senior seminar, and film studies. He's passionate about transforming students, and works with them during their senior seminar. Students lead a discussion on the works of two or three writers and Billy coaches them prior to their presentations. "It's a good learning experience for them, because they do learn more from the idea of teaching a literary work than they would if they just read it."
The English department offers two majors, English literature and English writing. The writing major is more of a combination of the two. "That's because all of us, every single professor believes that you can't really write in a vacuum," explains Billy. "In order to be a poet or a novelist or even a public relations person, you have to have a pretty good awareness of what other writers have done down through the ages."
English teacher and Saint Mary's alumna Angela Saoud says, "Professor Billy has a way of making his students become better, more accomplished writers without constantly having to critique their work. He's encouraging and understanding, and really allows students to focus on the things that interest them for their subjects."
Billy and student Michele Kuhlmann were awarded a SISTAR grant in '96 for their work on Nathaniel Hawthorne. He has published three books, all on Joseph Conrad. He has also published a number of essays on other literary greats, and has presented his work in Poland, France, England, and Canada. Billy is currently working on a book entitled, The Haunting House of the Mind, a treatise on 19th century American Gothic fiction.
While Billy is passionate about "how literature and life are very much connected," he considers one of his greatest moments at Saint Mary's to be a time when he was not a professor, but an actor. Billy had a leading role in the Saint Mary's theatre production, Angel Street.
"I'm a kind of ham actor, and I think that most professors fall into that category, whether they want to admit it or not," says Billy. Billy played the detective, and the comic relief. "I got to kiss the girl. I got to smack the villain over the back with my cane. It was just marvelous."
Sister, Teacher, Poet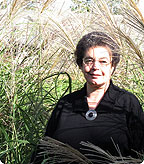 There's something about Eva Mary—Sister Eva Mary Hooker, CSC, writer-in-residence, that is. Perhaps it is her unbridled enthusiasm for poetry and writing. It could be her gentle but relentless exploration of controversial Catholic teachings in the classroom. Maybe it's just her contagious, uninhibited laugh. Whatever it is, Sister Eva has a certain je ne sais quoi that makes her one of the College's most favorite recent additions.
Although she arrived on campus last fall, Sister Eva is far from new to the College. Over the years she has experienced Saint Mary's as a student, a Sister of the Holy Cross, a professor, an associate dean, and now, as a writer-in-residence teaching English literature classes. Immersed in writing and teaching, Sister Eva hopes to remain at the College for a long time. "In some ways I think of us as one giant community," she says. "Obviously we are all different ages … but there's something marvelous about living among the vibrancy of students and of young women."
–Emily Lavelle '07