Student Profiles
Global Ambitions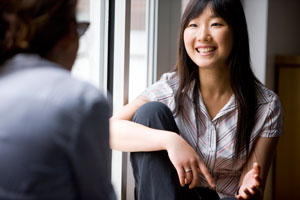 Jingqiu Guan's ambition has global proportions. That ambition brought her from her home in Chengdu, China, to Saint Mary's, where she is now a double major in French and economics.

"I always wanted to go to a college versus a university because it's smaller, the class-size is smaller, and you can really get a lot of interaction with professors," says Jingqiu. "I chose to go to Saint Mary's and I really like it."

From dance and playing the piano, to her business and French courses, Jingqiu has the opportunity to explore her passions at Saint Mary's. In her first year, she took a French course and fell in love with the language. A semester in Dijon, France, rounded out her language skills and her experience of French culture. Jingqiu's goal is to travel the world, to pursue a career that combines business and promotion of the arts.

As her list of experiences grows, so does Jinqui's resume. She is building skills that companies look for in a college graduate. Study abroad, internships, volunteering, and leadership positions in student clubs—these are all opportunities that Jingqiu has taken advantage of at Saint Mary's.

"I think the best part of being a Saint Mary's student is that I've gotten a chance to discover what I like. I have the opportunity to experience different things," Jingqiu says. "There are so many interesting things happening on campus. If you really want to try something, you always have the chance to do it."

As a first-year student Jingqiu became a member of the Student Diversity Board (SDB) and the Saint Mary's Dance Company. She is also president of the Around the World Club and has participated in the Student International Business Council (SIBC) at the University of Notre Dame.

"In the SIBC I learned about marketing, how a business plan works, how to make business plans. A group of us went to Chicago and made a presentation to a consulting firm about an agricultural business plan to sell fruit and trade in Ghana. They are sending people to Ghana to start the project soon," she says.

Jingqiu also initiated the Model UN program at Saint Mary's. She traveled with fellow students to the University of California, Berkeley, to take part in a Model UN conference. There, she presented on economics and trading in Costa Rica. She plans to pursue a career with the UN later in life.

The Model UN program wasn't Jingqiu's only opportunity to present her understanding of a complex topic. During a voting event at Saint Mary's, she worked with economics professor Jerome McElroy on a presentation of the 2008 presidential candidates' economic plans.

Saint Mary's students often learn through presentations, along with group projects and research with their professors. It's that kind of real-world application that Jingqiu says is preparing her for a career.

"I know what I want to do now," Jingqiu says. "I think the professors are helpful and they give you advice. You talk to them and they offer direction to help you. The Career Crossings Office is also helpful. I have worked with them to apply for jobs and internships." With the help of CCO staff, Jingqiu secured an arts management internship with the Mark Morris Dance Group in New York City during the summer of her sophomore year. The CCO was able to help her with the application process and give her interview tips, even while Jingqiu was studying abroad in France.

Now a junior, Jingqiu has been recognized for her high standards of personal excellence and scholarship and for her contribution to the College community. The College awarded her the Saint Catherine Medal. It is a tribute to Jingqiu's academic and artistic talents and her considerable contributions to Saint Mary's.
Personal Best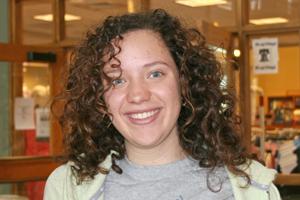 When it came to choosing a college, senior Edie Chittenden says she wanted a place that would put her outside her comfort zone, where she could challenge herself. "I knew Saint Mary's would get me where I wanted to be in the future," says the native of Lowell, Mich.
Working on a double major in biology and French, Edie says she enjoyed her first few courses in biology because they were difficult and challenging, but she came through them successfully. "It made me see in myself that I was in fact, able to do this." She credits Dr. Tom Fogle with her first good impression of the biology department. "His energy and love for Saint Mary's made me love it even more. He is now my senior comp. advisor and has been nothing but supportive." Edie has been on the Dean's list each semester at Saint Mary's.
Edie studied abroad in France during the spring semester of 2008. "Every day was a constant learning experience-learning about new cultures, a new language, and even myself," says Edie. "I became more independent, open to others and their beliefs, and I did not regret a minute of it."
Edie plans to enter a physician's assistant program after graduation. She is a certified nursing assistant (CNA) and is in an internship at the Yale-New Haven Hospital through their college summer program. "It's a great program for career exploration," says Edie.
On campus, Edie sits on the Student Affairs Board (SBA) and was selected as the Outstanding Member of the board this year. She is also a member of the Residence Hall Association (RHA), last year acting as the All School Formal co-chair. The formal event she helped plan was voted best event for the year.
Edie works at the Women's Health Center, and volunteers with Breast Cancer Awareness. She also volunteers with Read to a Child, and she is a Peer Mentor for incoming first year students. Next year she will be one of two Senior Chairs for the Class Gift Campaign, educating students about the importance of giving back to Saint while raising money for their senior gift to the College.
In addition to her interests in science and language, Edie has been taking private piano lessons all three years she's been at Saint Mary's. "I put a lot of energy into learning piano and it is something about myself of which I am most proud," says Edie. "Music challenges me in a whole different way than science, and I feel the difficulty of it is often overlooked by the idea that science is one of the hardest topics."
For Edie, the best part of being a Saint Mary's student is the bond shared with fellow women. "Being at an all women's college, I always feel comfortable being myself in the dorm as well as in class. This great environment is also present with my professors who are involved in our education, helping us achieve our highest potential."