Global Studies Major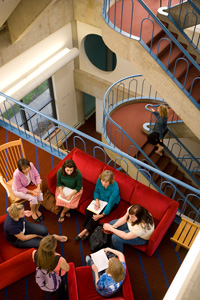 Be prepared to work with, and compete with, colleagues from around the globe. You may even spend a portion of your career living outside of the United States. A global studies major will prepare you to fully participate in the emerging global community and increase your post-graduate opportunities in a wide array of globally oriented fields.
Global studies is an interdisciplinary major with seven possible concentrations that provide the structure for your studies: gender and women's studies, global business administration, global economics, international higher education administration, intercultural studies, international development, and modern European culture. The global studies major not only prepares you for the worldwide community, the concentration you choose enables you to tailor your studies to your area of interest and future professional goals.
Writing in the Major
A portfolio of three essays will complete your advanced writing proficiency. At least one essay must come from one of the core courses and at least one must come from the area of concentration you choose demonstrating your ability to write in a focused and specific manner.
Senior Comprehensive
The senior comprehensive in global studies will require you to carry out a research project grounded in a topic related to your area of concentration. You'll get graduate level experience as you develop and present your proposal, including hypothesis, design, and proposed methodologies. In the spring of your senior year, you will present your findings to global studies faculty.
All students in the global studies major will submit an e-portfolio at the end of the Senior Seminar. Some of the items in the portfolio include: language proficiency score, reflection paper regarding study abroad experience, resume, and research proposal.
Hands-on Learning
Global knowledge requires global experience and that experience is always deepened by the ability to communicate beyond your native language. In this major you will be required to demonstrate competence in at least one world language and to spend at least five weeks in a college-sponsored study abroad program.