Italian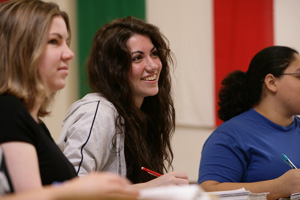 As an Italian major at Saint Mary's College, you'll acquire proficiency in the four basic language skills: listening, speaking, reading, and writing. You'll gain broad knowledge and appreciation of the culture, history, and literature of Italy. By studying abroad through Saint Mary's program in Rome, you'll have the opportunity to study the Italian language and experience its culture in a native setting.
"Studying abroad with the Saint Mary's Rome program was the most significant and wonderful experience I had at Saint Mary's. It helped me realize how much I wanted to pursue my studies of Italian and of other cultures in general. The faculty are truly amazing people who love to share their knowledge and passion for learning with their students." —Christina Palella '08
All Italian language courses—beginning, intermediate, and advanced—are taught by dynamic professors who are active scholars in their field. They will help you take your language skills to the next level through Italian film, theatre, literature, and cultural studies courses offered both at Saint Mary's and on the Rome campus. Classroom discussion and interactive work in the Language Learning Center will build on your strong foundation.
Writing in the major
At Saint Mary's, all Italian majors learn to communicate with precision and style in their language of study. You will work closely with faculty, sometimes revising and rewriting drafts, to develop strong writing skills in Italian. By completing the portfolio requirement for the Italian major, you will also fulfill the advanced writing proficiency requirement at Saint Mary's College.
Senior comprehensive examination
In the final semester of senior year, you'll have the opportunity to demonstrate your knowledge of Italian language and culture through written and oral examinations. Your professors will draw exam questions from the material covered in courses for the major, evaluating your answers both for linguistic accuracy and content.
Hands-on learning
At Saint Mary's, you'll have countless opportunities to improve your Italian through classroom discussion and interactive computer programs in the Language Learning Center. You'll have the chance to speak Italian and immerse yourself in Italian culture by spending an academic year or semester in Rome, participating in Saint Mary's oldest and largest study abroad program.
On campus you can join the Italian Club, which promotes Italian culture through films, lectures, cooking classes, opera outings, pizza nights, and other activities. You can become a club officer and work closely with the Italian faculty to encourage your classmates to participate in the Rome program.
Beyond the campus, Saint Mary's Italian majors have opportunities to use their language skills in diverse settings. Imagine landing an internship at the U.S. Embassy in Rome or teaching English in Italy.
Careers
In today's global economy, many employers prefer job candidates with foreign language experience. As a Saint Mary's Italian major, you can prepare for a career in teaching, communications, business, law, government, and many other fields. Many graduates continue their Italian studies in top programs around the country.