Alumnae Profiles
Dreamcatcher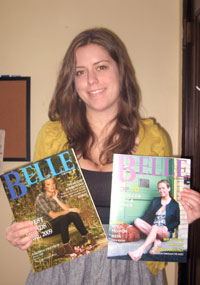 If turning dreams into realities was a paying job, Rosemary Ansel '10 would be hired on the spot. Through hard work and ingenuity, the business and Italian graduate made many of her dreams come true at Saint Mary's. It's been her dream to work in the fashion industry.

Ansel chose to attend Saint Mary's chiefly for the opportunity to study abroad in Rome. She made several visits to the campus while in high school and was accepted on Early Decision around Christmastime of her senior year. That was dream-come-true number one.

By the time she entered as a first-year student, the College had developed an Italian major (previously a minor) and Ansel was on her way to fluency in a language and culture she loves. She joined the Italian Club and spent her sophomore year living in Rome.

Ansel has dual citizenship in the U.S. and Italy and had spent short periods of time living in Italy before college. She says the opportunity to study there for a solid nine months allowed her to "re-experience many of the Italian customs I grew up with and also learn more in the process." And she didn't mind acting as her classmates' walking translator. "My Italian finally came in handy," she says.

Ansel has a good chance of fitting her passion for Italian culture into a future career. With a business concentration in marketing, she graduated prepared to pursue her dream job as a buyer for a fashion retailer. Not a bad choice for someone who calls one of Europe's fashion Meccas her home away from home.

Ansel's parents always told her to choose a job, not just for a paycheck, but because it is something she loves doing. She applied that wisdom as a student, exploring her love of fashion and sharing it with fellow students through a major project. With some guidance from friends, family, and professors, Ansel launched BELLE Magazine through the College's Young Executives Club (YEC) in 2010.

A fashion-focused, full-color, glossy publication, BELLE Magazine was a hit from the start. The YEC collected six advertisers for the first issue, which included articles from New York fashion week coverage in addition to updates on European style.
The result of hours of brainstorming and hard work, including Ansel's professional pitch to the YEC, who backed the launch of the magazine, couldn't have made Ansel happier.

"I think the best moment for me was sitting at a booth in the dining hall behind a group of students who were reading the magazine and listening as they talked about the issue and how much they liked it," says Ansel.

The magazine was a dream come true for Ansel who says, "I always knew growing up that I didn't want a mundane job."