Alumnae Profiles
For the Love of Music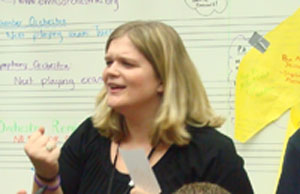 Alumna Laura Miller '08 says this photo "captures my
hilarious passion for teaching."
Graduate Laura Miller '08 is using her musical talents to brighten the minds of young students. Because of her many experiences with the music department at Saint Mary's she says, "I am able to awe my students with stories of travels and performances that some of them can only dream of."
As a student Miller was a member of the prestigious Women's Choir, which allowed her to fulfill those dreams for herself. She attended and performed in various concerts, connected with other musical students, and participated in choir tours around the country, including a trip to Carnegie Hall in New York City.
Miller was inspired to pursue elementary music education. She says that music department and Saint Mary's professors in general expect "hard work and honesty from each of their students, from the first day of classes all the way through graduation," but says the efforts are worth it. 
"The members of the music department came to be a second family to me, nurturing me through everything from my first theory exam to my senior comprehensive and student teaching, as well as personal or family issues that are [inevitable] in life."
Miller now teaches for three Penn-Harris-Madison Schools in Indiana—Horizon, Elm Road, and Moran elementary schools. She introduces singing, dancing, rhythm, and basic instruments to Kindergarteners through fifth graders, giving them an opportunity to understand and explore the different aspects of performing arts.
Miller is also the assistant director of Main Stage Inc., a non-profit organization located in Mishawaka. Main Stage Inc. is a community program that provides instruction and performance opportunities to children in the hopes of inspiring creativity and interest in the performing arts.
Miller's work is nothing short of another dream come true. "I am incredibly lucky that every morning I wake up excited to go to work, to inspire hundreds of young students to love music as much as I always have."
—Sarah Sheppard '11
Music Maker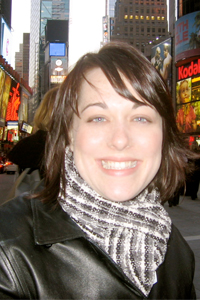 For alumna Katie Chmelko '09, music has always been a source of passion. A Philadelphia native, she played an active role in her high school's orchestra, chamber ensemble, and jazz band. Since that time, Chmelko developed a deeply rooted love for the fine arts here at Saint Mary's.
The personal attention and intimate relationships between students and teachers was the primary reason for Chmelko's college decision. "I am thankful everyday for choosing to come to Saint Mary's to be a part of this wonderful music program. [I had] such talented and wonderful teachers, and because the department is smaller we [got] the personalized attention that [was] needed for us to grow as students, performers, and future teachers."
Both a talented singer and instrumentalist, Chmelko completed a degree in music education. As a student teacher, Chmelko taught choral music to students at LaPorte High School in LaPorte, Ind.
Chmelko grew tremendously as both a musician and overall student at the College. In her senior year, Chmelko participated for the second year in a row in the College's High School Women's Choir Festival. Chmelko invested her time in conducting a piece for Saint Mary's Women's Choir.
Her courses in music theory and music history enabled Chmelko to better analyze and interpret a wide variety of musical pieces. She holds in high regard Professor Nancy Menk, her music mentor and student advisor since freshman year. "She has been a tremendous source of guidance and encouragement and has helped me discover my passion for conducting.
Chmelko looks forward to completing her graduate degree in conducting.