Student Profiles
Angie Schott calls herself goofy, dorky, and awkward. She'll hug a tree for a laugh or dress up as a preteen boy onstage.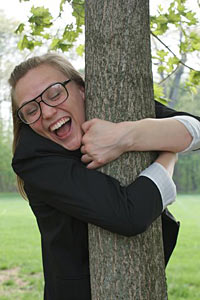 And her colorful personality and vibrant mezzo-soprano voice have landed her some prime roles in College productions in her first two years at Saint Mary's: Jack in Into the Woods, Hansel in Fairy Tale Tunes, and Miss Todd in Menotti's Old Maid and the Thief. Yes, the first two roles involved gender-switching, but no matter. "These have been two of my favorite roles," Angie said. "I'm a tall, goofy, slightly awkward person, so I'm perfect to play a pre-teen boy!"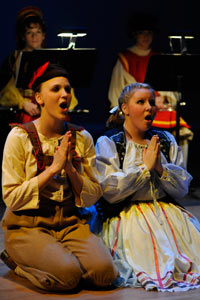 Angie Schott '13, left, plays Hansel and
Ashley Stopczynski '13 plays Gretel in
Fairy Tale Tunes in March 2010.
Goofy as she is, Angie is seriously dedicated to her many musical commitments, especially when they involve others. "Even more than singing, I love to create music with other voices," she said.
She's involved with Collegiate Choir, Women's Choir, Madrigal Singers, Opera Workshop, and Bellacappella, the College's a cappella group that she now leads. "Bella is easily my favorite part of the week, and I am so excited to be in charge of the group," she said. "Our gift of song has the power to uplift people's spirits, and I would love to share that gift with as many people as possible."
An music education major, Angie wants to share music through teaching. "I firmly believe that the arts can reach students in a way that no other class can offer," she said. "Even the kids (like me) who aren't passionate about math or science can really get excited about the arts."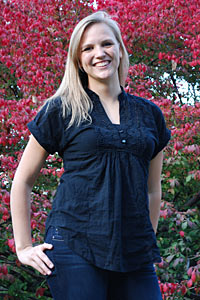 Excellent professors, classes, and performance opportunities at Saint Mary's have taught Angie to appreciate various types of music—even opera. "I didn't listen to opera at all before coming to Saint Mary's," she said. "I thought the singers were too dramatic, I didn't get the music, and I didn't understand why everyone died at the end. But my perception has totally changed. I have learned to appreciate the vocal endurance it takes to just get through an opera. It's also a lot of music to memorize and perform. But those are the also the reasons why I love performing opera."
Angie, an Indianapolis resident, is used to hard work and her success in high school is helping today. "I worked really hard in high school, and Saint Mary's realized that and rewarded me for the work that I put in. It is so nice to know that paying for college is so much easier because of just being involved and doing what I loved in high school," she said. She receives scholarships for academics and extra-curricular activities among other assistance. "Financially, Saint Mary's made the most sense," she said.
But the reason she loves Saint Mary's is the people. "I am surrounded by women who are motivated and who have influenced me to be a better person," she said. "I also have incredible professors who have taken the time to know me and go out of their way to meet my family at musical activities."
"Saint Mary's is something different," she said. "You can find great academics at a lot of schools. However, Saint Mary's offers women a chance to know themselves and develop into strong, independent people. I don't think I can stress enough what a big deal that is. I am now so much more of the person that I want to be and can be because of Saint Mary's."