Student Profiles
A Lifetime Love of Saint Mary's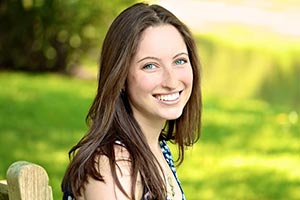 "I've been coming here every single year since I can remember, and when I started considering Saint Mary's as a possible college for me to attend, I could really see myself in the students I saw walking around," Ellie Pernsteiner says. Her mom is a Saint Mary's alumna and her dad graduated from the University of Notre Dame. "I remember eating in the old café in Haggar and running across the bridge to Lake Marian with my siblings when I was little. Saint Mary's is home."
Ellie appreciates that the College has a good sense of community and is small and intimate. "You can really find your place here," she says.
Ellie can't remember a time when she didn't want to be a nurse, and she loves Saint Mary's nursing program. "The professors are smart and caring and know the field well. They give us individual attention and hold us to a high standard. It's hard, but it's worth it because they make us the best that we can be."
Ellie likes that there are so many different career paths within the nursing field. "I love that I can do so many things," she says. "I've learned a lot in each clinical setting, especially how to utilize therapeutic communication and treat the whole person rather than just the medical symptoms. I could see myself in multiple areas, but I'm especially interested in critical care."
Her interest in critical care grew during her time shadowing a nurse practitioner with the Cleveland Clinic Critical Care Transport Team last summer. The team transports critical patients by helicopter and ambulance from area hospitals to the Cleveland Clinic for better care. "It was cool to see a nurse completely in charge of care," she says of the experience.
In addition to her time in the nursing department, Ellie is also a student supervisor for the College's Phonathon. Student callers contact alumnae, parents, and friends of the college to maintain a strong relationship and seek donations to assist with student scholarships and other financial needs of the College. "As a supervisor, I have grown as a leader and mentor for other students," she says. "My confidence and communication skills have improved as well."
Her love of Saint Mary's began in childhood, was reaffirmed as a nursing major, and continues to grow as she becomes more involved with the College. Through her work on Phonathon, she has realized a new way of relating to the College. "Connecting with alums and hearing their stories has made me love Saint Mary's even more," she says.
~Jillian Fata '14