Student Profiles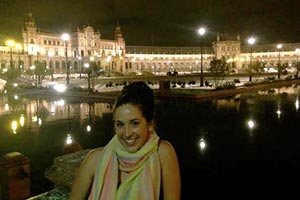 Growing in Mind, Body, and Spirit 
"Once I took my first religious studies course I felt strongly that, for me, nothing else was worth pursuing until I first pursued religion," says Samantha Grady. From Corrales, New Mexico, Samantha Grady works towards a double major in religious studies and political science as well as a minor in environmental studies. She chose these fields of study based on what she did not yet know and might be able to discover, and at Saint Mary's, she's constantly discovering more.
Her religious studies major has taught her both humility and courage. "It takes courage to put God in the classroom, ask the difficult questions, be vulnerable, and claim not to know," she admits.
Her studies have both challenged and inspired her. Samantha's most memorable course was Professor Joseph Incandela's Aquinas course. Guided by her professor, she explains that this course taught her the value of questioning and that, as humans, we are constantly on a journey towards understanding. "Professor Incandela presented abstract Aquinas material in creative ways that made concepts easier to grasp. [He] was always open to discussing Aquinas outside of class and for him, no question was a bad question," Samantha says.
Her experience with Professor Incandela is representative of Samantha's experience at Saint Mary's. "I have never felt more valued as a student, in both mind and spirit, than I do here at Saint Mary's. My classes are more than memorization and facts: they are about educating me in all ways. Educating the 'whole' student is a value that Saint Mary's lives out to the fullest," she says.
Outside the classroom, Samantha gives it her all on the court as a member of the Saint Mary's volleyball team. The challenges and additional demands of being a student athlete have only enhanced her time at Saint Mary's. "Being a student athlete has taught me not only time management but [also] good communication skills with my peers, professors, teammates, and coaches," she explains.
In between her sophomore and junior years, Samantha traveled to Seville, Spain for one month, living with a host family and diving into Spanish culture. "I am so grateful to have experienced a different part of the world and was touched by the amount of similarity that exists among people from a totally background," she says. 
During her first three years at Saint Mary's, Samantha discovered her passion for religion, political science, and Spanish culture, while also strengthening her time management and communication skills. As Sister Madeleva once said about Saint Mary's, "we promise you discovery." And for Samantha, the College has fulfilled its promise.
~ Elizabeth Kenney '15 
Talent in the Making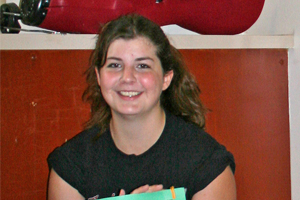 Boulder Colo., native and theatre aficianado Elizabeth Carian has found a host of opportunities to pursue at Saint Mary's, all while enjoying the ability to take the classes she wants to take. The religious studies and theatre major says that Professor John Fotopoulos has been helpful in her study of the Bible. "Having been in Catholic school for thirteen years, I have taken a lot of Bible courses," says Elizabeth. "However they were always teaching me what the stories were—not why or when or how. Professor Fotopoulos' class actually taught me what I wanted to learn."
In addition to her classes the sophomore participated in a long list of activities her first year, including being in the multicultural mentoring program as both a mentee and a mentor; acting in the theatre production, Lend me a Tenor; acting in the musical Candide; providing a voice in A Case of Belonging; participating in the Women's Choir; and helping out behind the scenes with lighting, props, sets, sound, and stage management.
Elizabeth hopes to work in theatre after college. In the meantime she is honing her skills at Saint Mary's. "I've been in theater almost all my life and hands down Candide was the single best and most professional production I've ever been in," says Elizabeth. "The way the cast, crew, director, choreographer, and designers worked together to make this play as amazing as it was is awe-inspiring.  I will have memories from this show that will stay with me for the rest of my life.