Student Profiles
A Broad Perspective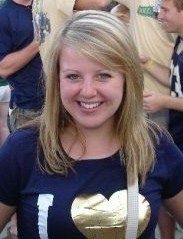 Youngstown, Ohio, native Colleen Lowry fell in love with Saint Mary's on her first College visit.
Now, with her chosen major of sociology, Colleen is the vice president of the Sociology Club, a member of the Class Gift Campaign, and participates in the Notre Dame College Democrats club.
Colleen has loved being at a small campus where the professors are always available and willing to guide students through their classes and projects. She says, "Each professor has different interests and does unique research. This makes them more accessible to groups of students that have varying sociological interests."
In the past, Colleen worked on a project that focused on the 2008 presidential elections. She was able to combine her interest in sociology with her interest in politics. She explains, "Sociology gives me the freedom to see the world from a different perspective and apply things I am interested in and learning in all of my other classes to Sociology."
As a junior, Colleen is still deciding where her future lies, but she plans on attending graduate school. She looks forward to her senior year and is currently in the process of choosing a topic for her senior comprehensive project. In the meantime, Colleen continues to enjoy her classes, some of her favorites including: Sociological Statistics and Political Participation. 
Colleen says that Saint Mary's is the perfect fit, and she says, "My favorite part about Saint Mary's is the people I have met and the friends I have made."
—Sarah Sheppard '11
 
Seizing Opportunities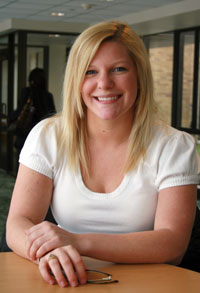 Carly Zagaroli took an interest in Saint Mary's because of the strong liberal arts program, the small classes, and the beautiful campus.
Carly is majoring in sociology with minors in women's studies and intercultural studies. She chose a sociology major because, she says, "The major is cross-cultural, which means a lot of the issues we study can be related to many if not most of the other disciplines at Saint Mary's. I feel that sociology gives me a good base for further education, for learning about how to do research, and also for dealing with the real world."
Now in the spring of her senior year, Carly has completed one real-world experience that Saint Mary's provides all students—the senior comprehensive project. Carly created her project based on the popular show, Gossip Girl, titled "Prada Placement: A Content Analysis of High Culture Goods in Gossip Girl." Carly says, "I analyzed the product placement within the show to see what kinds of products the network was promoting to teen females."
With her project finished, Carly can now focus her talents on the upcoming Diverse Students' Leadership Conference (DSLC) in March. She has been asked by Leslie Wang, assistant professor of sociology, to assist in the presentation of the topic, "A Course on 'Whiteness': Learning and Teaching about Critical Whiteness Studies."
Aside from her busy academic schedule, Carly, is the secretary of the Sociology Club at Saint Mary's College and a member of College Democrats. She spends her free time volunteering at Healthwin Nursing Home, helping in the offices and decorating the halls.
As a Notre Dame fan and long-time dancer, Carly took advantage of Saint Mary's unique relationship with Notre Dame and joined the Notre Dame Pom Squad. She performs at her favorite team's football rallies, the men's and women's basketball games, and other select functions.
As her final year comes to end, Carly looks forward to attending law school. In reflecting on the past four years, Carly says, "I love it here and am so glad that I chose Saint Mary's. The friends that I have made here are life-long and the professors have changed my outlook on life."
—Sarah Sheppard '11