Student Profiles
Family Matters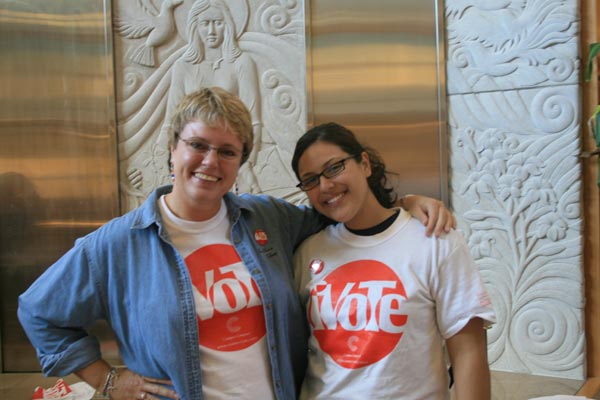 Senior Jasmine Saavedra and Carrie Call, director of the
Office for Civic and Social Engagement, at the 2008
Rock the Vote event.
Senior Jasmine Saavedra is not the first person in her family to attend Saint Mary's. She was introduced to the College by her sister and two cousins. Even so, she says she chose Saint Mary's because she loves the small class sizes. "At Saint Mary's, you're a student and not just a number to the professors. Saint Mary's has so many opportunities to offer everyone."
Taking advantage of those opportunities, Jasmine has been the secretary for the Student Diversity Board (SDB) for the past two years, and she is a member of the student club La Fuerza, Future Women Doctors, and the Biology club, all while volunteering at Memorial Hospital in South Bend on the pediatrics floor.
This past summer she traveled to Ecuador with other students and biology professor Tom Fogle, who she says made an "everlasting impression" on her. "He has so much knowledge and is so passionate about things he has already seen plenty of times," says Jasmine. "He is an inspiration because I strongly believe that passion is a strong motivating factor and it makes life easier and more fun."
Professor Nancy Nekvasil is Saavedra's biology advisor and another mentor. "She really helped me last year when I was unsure of where my future was headed," says Jasmine. "She was very encouraging and told me not to give up, and that anything was possible."
Jasmine is double majoring in biology and Spanish and plans to attend medical school to become an ophthalmologist. While she finds all of her biology and Spanish classes to be challenging and stimulating, she says, "Saint Mary's College has helped me to become a well rounded person in all subjects."
Home Away From Home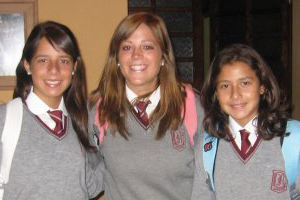 First-year student Kate Park already knows what it means to live away from home. The Spanish major spent her senior year of high school living with a family in La Serena, Chile. "It was an amazing experience," says Kate. "I got to speak a foreign language every day, learn the cueca (national dance of Chile), and I got to experience another part of the world first hand. I traveled from the north of Chile all the way down to the south of Chile, from the desert to the icebergs. I learned so much about myself and how to deal with new situations, and I honestly had the time of my life."
The Glen Gardner, N.J., native says she knew Saint Mary's was a great school, with its small class sizes. "I love the way the professors involve the students and allow us to discuss topics. It makes the class fly by and it's a great way to learn the information," says Kate. "The attention students receive here helps them to shape, change, and grow into beautiful, strong, better women."
Kate also appreciates that Saint Mary's is a Catholic institution. "God is really important in my life, and I enjoy being in a place that shares my ideas." Being close to the University of Notre Dame is another added bonus. Park is already taking advantage of "the best of both worlds," playing field hockey at Notre Dame. And she's busy on Saint Mary's campus as a member of the Spanish club and campus ministry.
With a minor in secondary education, Kate's goals for the future are twofold. She'd eventually like to be a Spanish teacher, but not before living abroad and teaching English. Saint Mary's can prepare her for this with the many study abroad programs currently offered. "Being abroad and being able to speak Spanish would be amazing, and hopefully by teaching English, I can open some doors for a child through teaching them another language."