Email Signature Instructions
Help with brand recognition and positioning by adding the official Saint Mary's College logo to your email signature. It only take a few minutes to set up — here's how!
Download the logo using the link at the bottom of this web page.
Log in to your Gmail account.
Click on settings (gear icon) in the upper right corner of your browser and select Settings from the drop down list.
On the General tab, scroll down to the Signature section and place the cursor on a blank line where you want to position the logo.
Click on Insert Image (mountain photo icon) in the toolbar to upload the logo file. 
In the Add an Image dialogue box, select the Upload tab in the menu.
Do not Drag and Drop the logo, instead, click the blue button to Select a file from your device then navigate to and select the logo file that you downloaded in Step 1.
The logo should now appear in your signature box!
Scroll to the bottom of the settings page and click Save Changes.
You're done!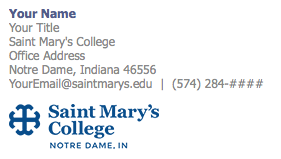 Remember! Please do not use this logo for other purposes, it is sized specifically for email. Larger logos for print and other purposes may be downloaded on the Logo Usage page .